Torque Fitness was founded in 2005 by a team of experts in the fitness equipment industry whose experience designing and manufacturing award-winning innovative strength training systems stretch back to 1979. Torque's mission is to provide the world's best strength exercise equipment for people of all ages and activity levels who aspire to live stronger and play harder.
The Torque X-Rack Warrior Series Ball Target can be used on all of the X-Rack Warrior Systems (Warrior Wall Mount, Warrior Arsenal and Warrior Rig).
The Ball Target is perfect for an all over body workout, focusing on core strength while also using your arms and legs to power the ball. This accessory can be worked at any fitness level so you can customise it to your individual fitness needs.
1. Upright Design
Some manufacturers boast the use of 7 gauge tubing for their uprights, which is only needed because the design eliminates one of the four corners where the majority of the strength resides.In contrast, the Torque design which uses 3" x 3" hot rolled and pickled 11 gauge steel, removes only material from one wall maintaining the structural integrity of the tubing. This also allows the increments between the adjustment points to be spaced closer together, with rack positions at every 3 inches.
2. J-Hook Engagement
Torque attachments feature a unique engagement method with the uprights. Two machined solid steel blocks fit into the square slot openings and drop into place being supported by the entire wall of the tubing. This prevents any twisting or rotating of the J-Hooks unlike other designs which can rotate freely in at least one direction.As an added safety feature, a spring pin is used to secure the J-hook down. Other than the weight of the J-hook itself, the spring pin is under no load. It's sole purpose is to prevent the J-hook from coming out of its engagement position in the event that an athlete inadvertently hits the hook on the way up from a lift.
3. Paint/Olympic Bar Protection
Torque attachments all utilize U.H.M.W pads that protect both the paint finish on the uprights, the inside and outside of the J-Hooks, and the Olympic bars used. Used in connection with the upright design, the only surface that has steel on steel contact is the bottom edge of the square cutout in the upright.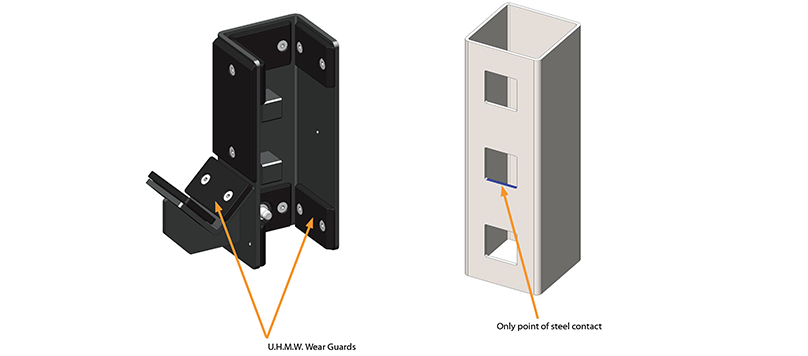 4. Thru-Plate™ Construction
All of Torque Pull-Up Crosses feature Thru-Plate™ fully welded construction. The pull-up bars go inside a hole and are supported by the thick wall of the connection plate. This puts less stress on the welds themselves and should a weld ever start to develop a crack, the bar is still fully supported.
5. Superior Finish and Grip
Torque X-Racks feature 5mm Storm grey wrinkle textured powder-coat paint. This electrostatic painting procedure follows numerous washing and pre-treatment cycles and ensures a durable long lasting surface. The combination of the specially designed powder compound and the extra-thick coverage provides an unmatched secure grip for pull-ups. Competitor models offer paint that is less than 2mm thick, scratches easily, and has a slippery surface.
6. Design Verification & Testing
A theory is one thing, but Torque verifies those theories with computer-aided stress analysis and extensive testing. All products are tested both statically and dynamically above the recommended ASTM and EN957 standards.In most cases, a product is first tested to the standard, then to double the standard and lastly the product is tested until failure (if possible).

7. X-Rack Boots
Where every other rack company is content with having a base plate that bolts to the ground with exposed bolt threads, Torque saw this as a problem that needed to be addressed. The X-Rack boot is moulded out of high strength and resilient urethane and is designed to cover the exposed bolts, prevent chalk and dust from collecting at the base and protects the uprights during vacuuming.
*Please Note: Advertised prices may differ in store to cover local freight.
Shipping Policy: At Elite Fitness we aim to get your order to you as fast as possible, at a price that won't break the bank. For smaller items, we use Courier Post-delivery and for bulkier fitness equipment we use Mainfreight delivery. Extra costs will apply to rural delivery areas.
Orders received over the weekend will be processed for delivery and shipped
the following week.
Dispatch & Shipping Times: At Elite Fitness we aim to be very prompt when processing and dispatching, which usually takes 1-2 business days. Please note that larger items may have a longer dispatch time.
Courier orders/ Smaller items
North Island: 1-3 business days to deliver after dispatch.
South Island: 1-5 business days to deliver after dispatch.
Freight orders/ Larger items
North Island: 1-4 business days to deliver after dispatch.
South Island: 1-6 business days to deliver after dispatch.
*Please note: Rural delivery times may vary depending on the location. Holiday periods may affect delivery time.
Auckland Warehouse Collection: Most orders received before 3:30pm Monday – Thursday, can be arranged for collection the next business day by prior arrangement. Contact our Call Centre on 0800 243 834 or for this option.
Tracking & Tracing: All orders will receive a Track & Trace reference via email upon the dispatch, so you can track your order to your door.
Note: Delivery times will be impacted by statutory holidays as Courier/ Freight companies do not operate on these days. Business days are classed as Monday-Friday and exclude statutory holidays.
X-Rack Warrior Series Accessory
Adaptable to Warrior Wall Mount, Warrior Arsenal and Warrior Rig
Residential Quality
Used on all of the X-Rack Warrior Systems