Comparing Vibration Machines
In this guide, we'll compare the different kinds of vibration machines available, pivotal and linear motion, from the top brands: Hypervibe, Fitvibe, and Elite VibeFit.
Vibration training is one of the most misunderstood and confusing categories of fitness equipment on the market today.
Using a Vibration trainer has a multitude of benefits to the human body but some of the main benefits, such as weight loss, are over marketed on TV causing confusion for the consumer.
This buyer's guide will help navigate through the confusion and will highlight the benefits of vibration training and which vibration trainer is right for your objective.
At Elite Fitness we have been educating and providing advice to customers on purchasing fitness equipment for nearly 30 years. We have a large selection of vibration machines both online and in-store to meet your budget, health and fitness requirements. No matter if you are a first-time purchaser or if you have experience similar products in the past.
When it comes to investing in a vibration trainer for your health and fitness needs, there are many factors to take into consideration when selecting the right machine for you and your family. A Vibration Trainer is a very versatile piece of fitness equipment that will cater for all fitness levels, whether you are looking for a tool to help with circulation and muscle relaxation or if you are after a machine to help stimulate your muscles and even help to relieve the symptoms of arthritis and other more serious medical conditions.
We cannot emphasise the importance of trying or testing the vibration trainers enough, as the feel of the machine can be crucial in your buying decision, especially with a lot of confusion in the market over which machines do what I regard to muscle stimulation and relaxation.
When purchasing a vibration trainer make sure the retailer or supplier can service and support your product for years to come. At any given time on the market, there are many suppliers selling "too good to be true" products on Online auction websites for crazy prices. These machines are often over marketed and ongoing after sales support is usually non-existent. The companies advertise the product for a short time then disappear always buy from a reputable source that can offer parts and be servicing from experienced and qualified technicians such as Elite Fitness.
Don't rely on the warranty information alone as a safeguard, the company selling the product still needs to able to support the purchaser for the duration of the warranty.
What are your objectives?
Vibration training has a lot of benefits but instantly shredding body fat' isn't a primary one!
If you have objectives on the list below Vibration training may be a good option for you;
Strengthen bones ligaments and tendons.
Want to condition muscles but don't like lifting weights or exercise in general – incidentally more conditioned muscles to burn more energy.
Mobilising joints but hampered by body mobility.
Need to improve circulation.
Assist with exercise recovery or relaxation.
Time poor and need maximum benefit in the shortest time.
Want to exercise but have very limited space.
If you are looking for one of these objectives then Vibration training may be just what you are looking for. The key to a vibration plate benefit is in the action as discussed below. The right vibration action and speed will stimulate the user's body in the right way to increase fitness and conditioning. The wrong vibration may feel powerful but will often be way less effective due to the inaccuracy. As per our recommendations, it will always pay to talk to a fitness specialist in store at Elite fitness to determine whether vibration will achieve the results you are looking for.
Vibration trainer types
Within the retail market, there are 2 types of vibration trainer movement available.
These are Pivotal and Lineal vibrations.
Both these types of vibration have their advantages and disadvantages but currently, the market is dominated by Pivotal vibration due to its larger overall benefits for everyday fitness objectives and fewer disadvantages.
Pivotal Movement.
Pivotal vibration is basically a 'see-saw' action. The vibration plate pivots from a central point a certain height (Amplitude) in mm and a certain speed or Hertz (frequency). It's this speed and height that determines the effectiveness of the vibration plate. A well designed vibration plate will have the ability to increase its speed or hertz from low 5hz ( 5 x per second) for massaging to high hertz 35hz  ( 35 x per second) for conditioning and then if you  couple these Hertz ranges with a low Amplitude (height) 7mm this will be the optimum point for the muscles to be worked at their best. Cheap models that indicate levels (up to 99 levels in some cases) may have high amplitude 14mm but low frequency 14-18hz making the action very "shaky" and feel very powerful but in fact are doing very little for specific muscular stimulation or joint strength. It simply isn't an accurate enough range to stimulate the body effectively.

Best option: Hypervibe G14 Home Vibration Machine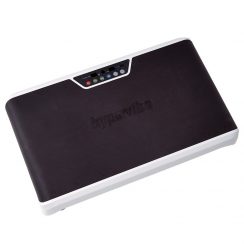 Linear movement.
Linear movement essentially describes a vertical action by the vibration plate. So it moves straight up and down about 2mm usually. This type of vibration plate is less prevalent in the market today, due to the fact that for the vibration to be totally effective it needs 2 motors to drive the plate effectively and this tends to be expensive. Linear movements can also potentially jar the spine and the vibration can be felt at the top of the head if not done well.

Brands
In recent years the Vibration Trainer market in New Zealand has been inundated with cheap and inferior Chinese imports.  Many of these are advertised on TV, in shopping malls and bulk expositions. These products are strategically marketed to help with weight loss and display larger number specs to confuse the consumer and in turn, think they are buying a quality product.
Purchasing a Vibration machine manufactured from a well-recognised brand, we recommend Hypervibe- will give you an assurance that the development, innovation and testing of these vibration trainers are at the highest possible standards. The efficiencies of the products from brands such as Hypervibe are a testament to the quality of the design and engineering of the manufacturer. This engineering ensures years of fitness benefits to the user but also support for parts and service for many years to come. Often manufacturing warranties from leading brands are superior and reflect the highest grade and standard of componentry incorporated with their products as they are required to meet strict European Standards such as CE, GS and TUV compliances.
Who can use this vibration Platform? 
Before you buy a vibration trainer it's advised that you visit your or health and adviser as with most exercising regimes as there needs to be an element of caution before embarking on any fitness journey.
Vibration plates can be constructed of steel or plastic and will have varying weight limits to reflect this.
It always better to purchase a vibration plate with a weight limit 20% heavier than the heaviest user to ensure its durability but also the heavier the user the less effective the plate when the user is closer to the advertised weight limit. More weight will dilute the effects of the vibration on the body.
Vibration platforms, vibration plates with stands and posture/positioning.
With such a large variation in models, it's difficult to decide on the suitability of a vibration plate alone or with a stand. Which is best?
The answer is both.
Vibration plates with stands have been designed to help improve the users' posture when standing. With better posture, training is more beneficial for engaging the muscles more effectively when they are aligned correctly. If a user has balance or stability issues then a stand is an invaluable addition.
However, Vibration training isn't only about exercising while standing. There are a lot of exercises that can be done while sitting, lying and in positions such as the press up position to condition the upper body and stands can hinder these movements.
Rule of thumb – make sure the plate is big enough for sitting on or lying down and that the stand allows for upper body access.
We advise Hypervibe vibration plates that have the option for plates alone or a stand that can be purchased with the plate originally or at a later date if required.
Workout Programmes
Unlike bikes, treadmills and cross-trainers – vibration trainers are as straightforward to use when it comes to working out and which exercises to do.  There are now international brands that have developed Apps that are designed so that  you can download them onto your smartphone or tablet that then  allow you to connect to their machines via Bluetooth and go through over 100 goal orientated workout programs ranging from fitness and strengthening, women's health and beauty to massage, relaxation and active aging. These programs have a figure demonstrating which exercise to do and where to stand on the machine, it is very easy to follow and if you do not like the movement or are unable to do it you can just skip to the next exercise.
Just like test driving a new car, it is important to come and try the range of Vibration trainers available.  We invite you to pop into your nearest Elite Fitness Store to experience them for yourself and have any questions answered by our knowledgeable and friendly staff.
Written by Elite Fitness Team,
November 15, 2018