iFit is the ultimate coaching platform! Whether you are working out on iFit compatible fitness equipment or prefer to take your training outside, with iFit you can take your workout anywhere.
iFit is introducing two new training options that will boost your workout experience to another level. These iFit additions are easily accessible and are compatible with various smart technologies. Take your training everywhere with the exciting new iFit upgrades.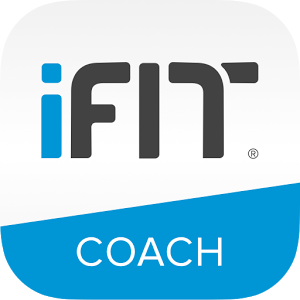 iFit / COACH
Exciting new features have been added to the iFit app. The premium account provides access to all three impressive applications as well as granting exclusive content access within each app.
The premium account access on the iFit Coach app is designed to learn and adjust to the user preferences. iFit Coach customises a personal fitness plan for the user, taking into consideration an individual's ideal duration of training, fitness goals, accessories/fitness equipment possessed, preferred days of workout and other metrics. The app takes into account all this information and then provides 3 recommended workouts every day, which is explained through video contents. The video content will rotate between 11 video programmes, eg. Ruthless, X-Factor, KickBoxing, Yoga, Sculpt, Fit in 15 min, Ultimate abs). The premium access can sync to iFit wearables, merging all valuable stats of the user (including iFit BLE stats on fitness equipment). A nutritional tracker that analyses the number of calories per meal recommendation is also included.
The iFit Sleep application can be used via smartphone; which is linked to the Sleep Sensor which sold separately can measure sleep efficiency. Providing sleep statistics, including an individual's respiratory patterns, heart rate, sleep cycles, time awake, total sleep duration, sleep score. All information synchs with the iFit training tracker.
The advanced iFit BLE (Bluetooth) application can be linked to compatible fitness equipment when training, with a built GoogleMaps capability to provide an enhanced visual workout experience. Users are able to customise their training, setting goals and adjust settings to suit their preference. Adjustable speed, incline and resistance are controlled directly from your Tablet. Users also have the option of following GoogleMaps pre-designed workouts that include live video. These individual programmes are redesigned every few months. This app enhances your individual workout or join the iFit community and participate in public fitness challenge events.
*Google and Google Maps are registered trademarks of Google, Inc.
*Subject to change
Discover Endless Training Opportunities
*Please Note: Advertised prices may differ In-Store to cover local freight*
Shipping Policy: At Elite Fitness we aim to get your order to you as fast as possible, at a price that won't break the bank. For smaller items, we use Courier Post-delivery and for bulkier fitness equipment we use Mainfreight delivery. Extra costs will apply to rural delivery areas.
Orders received over the weekend will be processed for delivery and shipped
the following week.
Dispatch & Shipping Times: At Elite Fitness we aim to be very prompt when processing and dispatching, which usually takes 1-2 business days. Please note that larger items may have a longer dispatch time.
Courier orders/ Smaller items
North Island: 1-3 business days to deliver after dispatch.
South Island: 1-5 business days to deliver after dispatch.
Freight orders/ Larger items
North Island: 1-4 business days to deliver after dispatch.
South Island: 1-6 business days to deliver after dispatch.
*Please note: Rural delivery times may vary depending on the location. Holiday periods may affect delivery time.
Auckland Warehouse Collection: Most orders received before 3:30pm Monday – Thursday, can be arranged for collection the next business day by prior arrangement. Contact our Call Centre on 0800 243 834 or for this option.
Tracking & Tracing: All orders will receive a Track & Trace reference via email upon the dispatch, so you can track your order to your door.
Note: Delivery times will be impacted by statutory holidays as Courier/ Freight companies do not operate on these days. Business days are classed as Monday-Friday and exclude statutory holidays.
1 Year iFit® Subscription
1 Individual user
Virtual Classes & Destiantion Workouts
Personal Coaching.
Connect iFit® Compatible Fitness Equipment.
Create custom workouts using Google Maps™
Access a vast library of workouts and programs available.
Train for events using programs specifically designed to help you reach your goal
Bluetooth Compatible
Calorie intake per meal recommendation
Wifi network required for full functionality