IFIT TODAY
FREE to all iFit users
Work out the day
Calorie intake per meal recommendation
Sleep efficiency application
Bluetooth Compatible
IFit is the ultimate coaching platform! Whether you are working out on ifit compatible fitness equipment or prefer to take your training outside, with ifit you can take your workout anywhere.
IFit is introducing two new training options that will boost your workout experience to another level. These ifit additions are easily accessible, and are compatible with various smart technologies. Take your training everywhere with the exciting new iFit upgrades.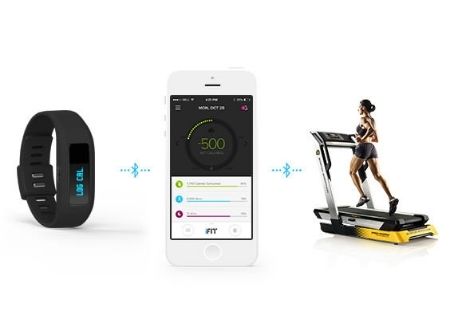 iFit / TODAY (free to all iFit Users)
Exciting new tricks have been added to the iFit app. You have 24 hours to try out the daily workout routines that are designed by professional personal trainers. These fresh daily workouts will keep you active and motivated, whilst also coaching you through various circuit sweat sessions.
This new feature can be found on the iFit Coach application, as a stand-alone app or wearable synchronised iFit devices that allows you to track your process. Along with the workout of the day, iFit Coach provides you with calorie intake goal per meal that will help you reach your goal weight. All stats will be uploaded to the iFit user daily. This application can also be used on a smartphone.
The iFit Sleep application can also be used via smartphone; which is linked to the Sleep Sensor which sold separately can measure sleep efficiency. Providing the sleep statistics, including an individual's respiratory patterns, heart rate, sleep cycles, time awake, total sleep duration, sleep score. All information synchs with the iFit training tracker.
For a limited trial period try the iFit BLE (Bluetooth) application, to enhance your workout on your ifit compatible device. The terms of the free period differ from country to country. iFit BLE can be linked to all compatible Bluetooth fitness equipment via tablet technology. Take your training around the world with a built in Google Maps simulations, which are designed to take you on a live video workout experience. Alternatively upgrade to the premium account to extend the experience.
*Google and Google Maps are registered trademarks of Google, Inc.
*Subject to change
The shipping details to show on the product detail page will go here
New iFit applications
Work out the day
Calorie intake per meal recommendation
Sleep efficiency application
Bluetooth Compatible
GoogleMaps