Elliptical Crosstrainer Buyers Guide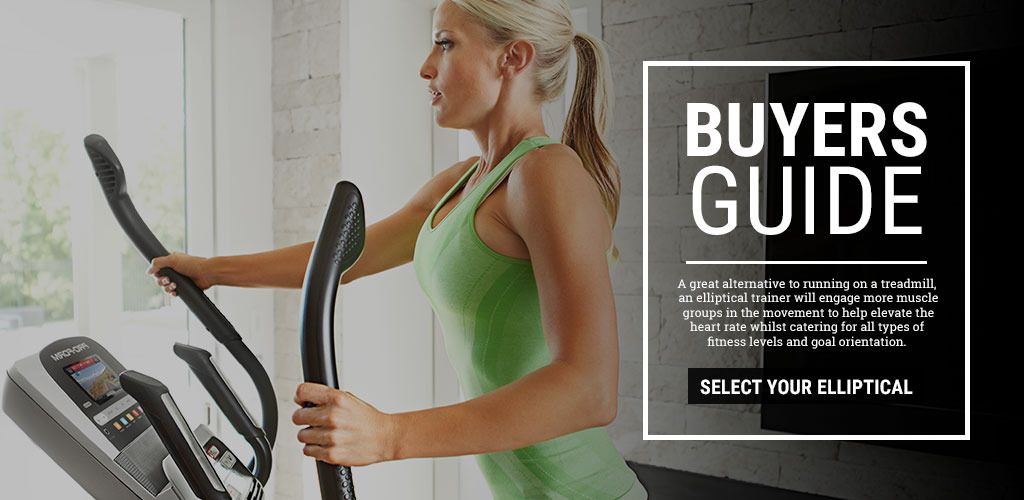 A great alternative to running on a treadmill, where impact reduction is an important consideration due to injury or preference. Intensity levels can be manipulated by using console operated magnetic resistance, cadence or RPM as well as the adjustment of the power ramp system to engage and activate more leg muscles in some models. A cardiovascular machine designed to provide a full body, low impact workout whilst replicating the bodies natural movement pattern. A good elliptical trainer will engage more muscle groups in the movement to help elevate the heart rate whilst catering for all types of fitness levels and goal orientation i.e. weight loss, sports specific or general fitness.
Types of elliptical crosstrainers
| | | |
| --- | --- | --- |
| There are several types of elliptical trainers found in the domestic fitness market, however the most common ones you are likely to come across are the Rear and Front driven models. Due to the shear size of commercial gym club elliptical trainers, it would not be practical for most homes to have space for one, so manufacturers have developed a range of compact, affordable options that are portable and easy to move around home. Front and rear drive, refers to the location and position of the rotating crank arm which determines the range of motion or stride length of the machine. The bigger the diameter of the crank wheel, the longer the stride and movement will be. Taller users over 6ft will normally require a stride length of 18" or more. Both front and rear drive options come in a range of different stride lengths. | Rear Drive Elliptical Crosstrainer | Front Drive Elliptical Crosstrainer |
Pedal Spacing

Due to the compact nature of a lot of rear drive cross trainers, the user is normally positioned straddling the main body of the machine, which forces you to place your feet considerably wider apart than your normal walking position. This spacing can vary from 5cm – 20cm+. Excessive pedal spacing has the potential to aggravate existing knee, hip, ankle or lower back injuries due to the lateral shift in body position to compensate in the movement. This may feel like your bouncing from side to side which can place additional stress on your joints. Ideally look for a machine where the pedal spacing is between 5 – 15cm for optimal comfort and safety. The Front drive cross trainer design is different, with the foot plates attached independently to an oversized roller wheel which moves up and down a rail. This style will normally have closer foot pedal positioning as there is no framework between them. This position feels more natural and alleviates the lateral movement from side to side and excessive heel lift off the foot plate. Excessive heel lift (plantar flexion of the ankle)

Pedal / Foot Plate Movement and Angle

Rear drive machines are fixed to an axle on the rear of the rotating crank. As the diameter of this is increased so does the range of motion and angle of the foot plate. For this reason some machines have an adjustable foot plate and/or adjustable stride on the upper body handlebars to suit the individuals preferred position. This can also shorten the movement to feel more like a stepping motion. The Front drive system has a flatter more natural feel, although the introduction of adjustable ramps on newer models has enabled these machines to offer the same step motion and promote more muscle activity for a better calorie burn.

Upper Arm Handlebars

The position of these handlebars is important in allowing the user to get a full range of movement, whilst keeping an upright position. It is important to get a full range of movement without the feeling of leaning forward, as this promotes more momentum and shifts emphasis off the targeted muscle groups.

Workout Programs

For those of us that require motivation or a more strategic approach to training, workout training programs are a must and play an important part in staying motivated during workouts. Many of today's elliptical trainers have a large range of program modes or options to cater for your fitness and training goals. These include Heart Rate control programs with the use of wireless telemetry straps, Watts control – Resistance & RPM and University tested programs designed by Personal Trainers, specifically tailored to individual training goals. Other innovations like iFIT SD and iFIT Live have also become popular with the introduction of modern technology. These allow customized workouts with Google Maps or progressive training programs that are specific to your needs. These empower the user to take control of their workout goals and maintain their workout motivation.
Brands
When looking for any serious piece of fitness equipment, look for reputable brands and manufacturers that have an international presence in the market. You can do this by doing a google search through the world wide web. Companies like Icon Health & Fitness (Weslo, Proform, NordicTrack) and Octane Fitness invest a lot of time and money into getting the crucial combinations of engineering, biomechanics, and training programs right for the domestic user. You can count on experience and expertise to deliver the latest designs and innovations whilst giving you the right tools to get the job done.

---