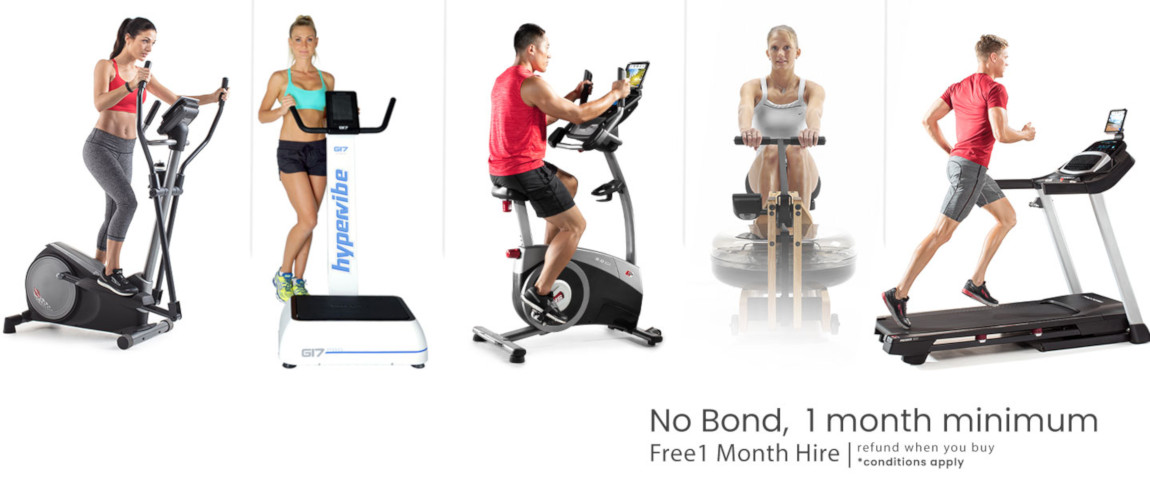 Fitness Equipment Hire
Hiring a piece of fitness equipment from Elite Fitness is the perfect solution for long term or short term goals! Whether you are recovering from an injury or operation, looking for workout options during the cooler months, or on a mission to lose weight or simply want to maintain your fitness at home, hiring exercise equipment is a great way to achieve your fitness goals.
Why hire?
If you want to test out having a piece of fitness equipment in your home first, why not try hiring before purchasing. This is a great way to see if you enjoy using a particular machine and if you will stick with it! We offer a FREE 1-month hire refund if you decide to buy.
Finding time to exercise is always a challenge, so enjoy the freedom of working out in the privacy of your home, at a time that suits you.
Why join a gym just to use your one favourite piece of equipment when you can hire it and have it in your home and use it at your leisure. Avoid expensive gym memberships and lengthy contracts, whilst avoiding the travel to and from the gym.
Don't let the weather interrupt your training routine. Exercise indoors when it's cold, dark or wet. Train at a time that suits you.
Get the extra motivation that quality fitness equipment can provide by hiring your exercise equipment from Elite Fitness and picking the perfect fitness machine for you couldn't be easier.
Risk-free hire
When you hire from Elite Fitness, there is no bond required and the minimum hire term is only 1 month. So there's really nothing stopping you from having a go.
What exercise equipment can you hire?
Choose from our extensive range of machines including treadmills, exercycles, spin bikes, rowers, cross trainers, vibration machines, ab machines and equipment for rehabilitation. Our hire fleet is sourced from top suppliers around the world and includes No.1 selling USA brands.
Need help choosing the right equipment?
Read our buyers guides for help in choosing the right exercise bike, elliptical, cross trainer or treadmill.
And remember, we offer expert advice and will help you choose the right machine for your individual needs and fitness goals. We can also deliver and install your equipment. Visit us at 9 stores nationwide, apply to hire online or call 0800 243 834 for more information.