BOBBI'S INSPIRING STORY
After years of being overweight and dieting a frustrated Bobbi started walking on the Bowflex™ TreadClimber 3 times a week.
"I started losing weight instantly. It started shedding straight off me, 25kg in just four months. It was fantastic! The weight came off everywhere and now I feel like a brand new woman. I'm so energetic. I love it!"
This unique machine combines a stairclimber, treadmill and elliptical into one and burns 3.5 times the calories of a regular treadmill.
Don't wait any longer to have the body you've always wanted. Backed by our no risk 6 week money back guarantee* find out for yourself why the Bowflex™ TreadClimber has been a best seller in the USA for the last 15 years and walk your way to fitness in the comfort of your own home.

WATCH BOBBI'S AMAZING TRANSFORMATION AND START YOUR JOURNEY TO FITNESS TODAY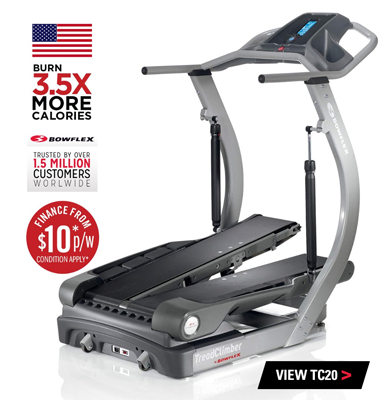 * Limited NZ stock available at an unbeatable price.
* Bowflex Treadclimber - exclusive to Elite Fitness