ALTRA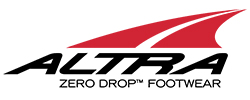 View Our ALTRA Products

RUN BETTER
Altra was founded with a desire to find a better shoe for road and trail running, to shape and move the way people naturally run. Experience the difference of our three core technologies and Balanced Cushioning™ design. We believe in providing the best possible running shoes for runners, and collection of several awards reflects that we are on the right track. At Altra we are proud of the Runner's choice awards, in addition to many other awards, including best winter trail shoe, best traction, and most innovative.

WORLDWIDE PERFORMANCE

Since the start of Altra in a few stores in the U.S, the expansion is going global. We are looking to reach every region around the world that loves to run.

THE WAY FORWARD DESIGN
A shoe like no other – at Altra our three core technologies include FootShape™ Toe Box, ZeroDrop ™, and Fit4Her ™. The FootShape™ feature is an enlarged toe box to provide ultimate space for toe comfort. The ZeroDrop ™ feature refers to the hell to toe drop which is minimal in the Altra shoe with no sloping downward. Lastly the latest Fit4Her ™ feature which is tailored to match the biomechanics of female feet for improved movement.