RIP60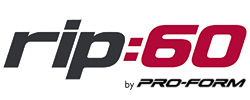 View Our RIP60 Products

Train Like The Pros
Rip 60 offers a great 8 week program that will take you one step closer to superior endurance and strength. The programs are scientifically designed to increase the progression of movements throughout the weeks, leading to a total-body power workout. Weeks 1-4 focusing on strength and weeks 5-8 targeting overall power, from beginner to advance positioning. Once the program is complete, users can switch up the routine with more intense positioning and forms of resistance.

High Calorie Burn
The Rip 60 is designed to provide a unique, high calorie burn workout. Utilising a sequence of push, pull, trunk and lower body methodology movements; forcing the body to stabilise itself and balance throughout your workout by engaging every muscle.

Simple Yet Innovative Design
Rip60 believes that the science of human performance is the same for everyone, it is important to keep pushing the body to increase growth and improvement. The unique design of the Rip:60™ Trainer is perfect for users of all levels, with adjustments that can be made with every movement. The set is made of aircraft-quality aluminium and heavy-duty nylon with comfortable hand and ankle straps capable of holding up to 270kg.