Strength training is a huge growth category for the fitness industry. More and more customers are asking how to get fitter stronger and healthier by using products such as Multi-gyms.
Multi-gyms are very popular due to the vast array of exercises that can be performed on them, on a relatively small framework in a safe manner.
There are many multi-gyms on the market today and we have put this buyer's guide together to help navigate you through the confusion and highlight the features, advantages and benefits of multi-gyms available today.
At Elite Fitness we have been educating and providing advice to customers on purchasing fitness equipment for nearly 30 years. We have a large selection of Multi-gyms both online and in-store to meet your budget, health and fitness requirements. No matter if you are a first-time purchaser or if you have experience similar products in the past we have the range to satisfy your requirements.
When it comes to investing in a multi-gym for your health and fitness needs, there are many factors to take into consideration when selecting the right machine for you and your family. Multi-gyms are a very versatile piece of fitness equipment that will cater for all fitness levels, whether you are looking for a product to help improve your strength, tone your overall body or have a sports specific requirement we will have the multi-gym to satisfy your needs.
We cannot emphasise the importance of trying or testing out multi-gyms enough as the feel of the machine can be crucial in your buying decision, especially with a lot of options available.
When purchasing a multi-gym make sure the retailer or supplier can service and support your product for years to come. At any given time on the market, there are many suppliers selling "too good to be true" products on Online auction websites for crazy prices. These machines are often over marketed and ongoing after sales support is usually non-existent. The companies advertise a product for a short time then disappear. Always buy from a reputable source that can offer parts and service from experienced and qualified technicians such as Elite Fitness.
Don't rely on the warranty information alone as a safeguard, the company selling the product still needs to able to support the purchaser for the duration of the warranty.
Which type of Multi-Gym is best for you?
Everyone wants fast results. Finding time to get fitter and stronger is a challenge. So choosing a multi-gym that has a huge variety of exercises to keep training interesting and executes these exercises efficiently to maximise quick results in the quickest time is definitely a priority.
Pricing on Multi-gyms varies from $400 through to $8000 so what is the difference between them and is it worth paying the extra?
$700 to $1500 range
Most multi-gyms within this price range have similar exercise options available. They will have movements based on the pulldown, chest press, leg extension and low pulley point for bicep curls etc. When paying more for a  multi-gym there are however a few features that make a difference, such as a seat height adjustment for better positioning, adjustable chest arm and pivoting back pad to allow for seated row, stronger tubing, better pulley systems, steel weight stacks instead of plastic, and better upholstery. All these additions help the movements feel better and add to a better experience the more you pay the better the biomechanics and better results. International brands such as Marcy have really cornered this market in the last 35 years providing great quality well-designed products for a great price.
Best option: Marcy Club 200lb Home Gym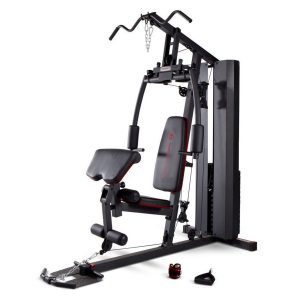 As a side note, we would advise against purchasing any Multi-gym under $700 due to the fact they will be constructed out of a very thin framework, inferior pulleys and cables, connection points on the arms and frame will be weak and flex under loading and the movements will be hugely inefficient. They may look like they will accomplish a lot but will perform very poorly.
$1500 and above Multi-Gyms
Multi-gyms at this price point and above have a unique advantage over the cheaper options.
It all comes down to efficiency, build quality and biomechanics. Manufacturers of these home gyms build them exceptionally strong with only the highest grade steel such as heavy-duty 2″x4″ oval and 3″ round 11 gauge tubular steel frame. They design the pulleys and cables to enable unbelievably smooth movements and position the user into the absolute best position for versatility and efficiency or movement.
These gyms offer exceptional muscle involvement from the first repetition to the last. This means more results in a quicker time frame.
Every muscle in a human's body has what is called a 'strength curve". Basically this 'strength curve' means that when a muscle moves there are weak and strong points. If the resistance applied to the muscle during the movement can match this curve then the exercise will be much more effective. Multi-gyms under $1500 don't match the strength curve, multi gyms above $1500 do.
There are different ways in which the resistance can be applied to match the strength curve;
Rod technology. Bowflex rods match the strength curve exceptionally well. They are very smooth to use, no weights banging together, very quiet in action and allow for a multi-gym design allows for the most versatile exercise catalogue of any gym on the market regardless of price. The rod technology has an elasticated feel rather than weight-lifting feel.
Best option: Bowflex 2SE Home Gym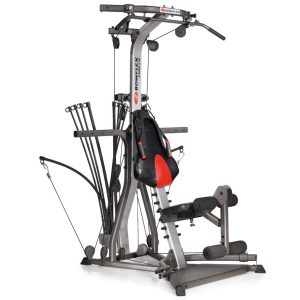 Body weight resistance. Weight plates are expensive to manufacture so if a multi-gym could be designed without weight plates to reduce cost, be easy to move around and have great efficiency then that would be a great combination. This has been done by using the exercisers body weight and a percentage of their weight to be applied in such a way as to act as weight plates. The movements feel exceptionally smooth and the resistance is a massive 150% of the user's body weight which is perfect for progression
Best option: Inspire BL1 Gym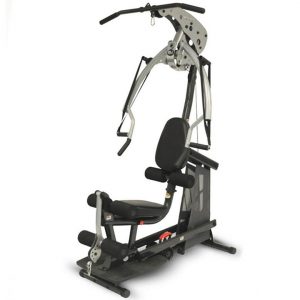 Machined weight plates. Very traditional as most gyms have these as resistance. But when they are engineered to glide smoothly and are attached to pulleys and cables that have been designed to maximise the way the weight is applied to the muscle for maximum effect, this means that every workout time can be reduced significantly. Designed fame work and seat positions to biomechanical perfection then you have some of the most efficient gym designs on the market. USA brands such as Inspire Fitness are at the pinnacle of gym design.
Best option: Inspire M2 Multi Gym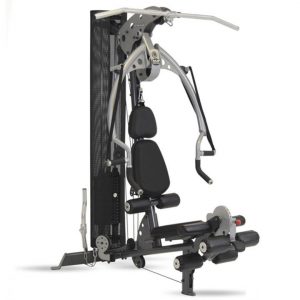 Brands
In recent years the Multi-gym market in New Zealand has been flooded with cheap and inferior Chinese imports.
The main priority of these imports is to match a cheap price point. To match the price point the manufacturer will always compromise on quality by sourcing components from a variety of different factories to match these price points. These Multi-gym factories do not design, develop or test new innovation or efficiencies they are only interested in 'churning out" inferior product with substandard warranties and no ongoing parts or after sales support. Typically these factories are short lived.
Purchasing a multi-gym from a USA brand such as Marcy, Inspire Fitness, Bowflex or our own range of Elite Fitness multi-gyms you are receiving assurances that the development, innovation and testing of these multi-gyms are of the highest possible international standards. These brands are responsible for 100's patents, continually striving to design and engineer products that are at the cutting edge of home production. This desire to bring the international consumer, quality home gyms for the last few decades is reflected in their outstanding warranties usually consisting of a 10-year frame and 2-year parts.
Often manufacturing warranties from leading brands such as these are superior and reflect the highest grade and standard of componentry incorporated with their products as they are required to meet strict European Standards such as CE, GS, TUV, ROHS, IS9001.
Workout Programmes
In recent years there has been a real effort to try and educate the new exerciser on using their home gym to the maximum.
USA companies such as Bowflex and Inspire Fitness have pioneered this information and there has been a proliferation of phone applications and website training programmes to enhance the consumer's workout on their home equipment.
No longer does the consumer only get a workout poster with a few exercises on it, there is a myriad of options to help take their training to another level.
Just like test driving a new car, it is important to come and try our range of Home gyms in store.  We invite you to pop into your nearest Elite Fitness Store to experience them for yourself and have any questions answered by our knowledgeable and friendly staff.