Congratulations on considering a new treadmill – it really is the first step to better wellbeing. And if you can get through the next phase of researching and actually choosing the best treadmill to buy, you'll deserve another pat on the back! This part can be challenging given the number of options out there.
That's why we've put together this guide – to help you navigate your way through the treadmill purchase process, and come away informed and enthusiastic about your purchase.
We'll cover everything you need to know about buying a treadmill. We'll discuss the different types of treadmills available, as well as their key features. We'll also provide some tips on how to choose the right model for your needs.
So, whether you're a first-time buyer or an experienced shopper, this guide will help find the best treadmills for home use.
What will you use your treadmill for?
Like people, treadmills come in all shapes and sizes, catering to all sorts of body shapes, movement styles and speeds. In order to find the best treadmill for your needs, the first step is defining what you want to use your treadmill for both now and in the future. 
What treadmill workouts do you have in mind? Will you be mainly walking for the rehabilitation of an injury? Maybe some light jogging 2-3 times a week during winter only, or pursue interval training with an incline to concentrate on improving your cardio output? Or maybe you want to start with walking and evolve to running, and then train for that half marathon?
You get the point! Everyone has different needs. Also, consider who else in your house will be using it and what they will do on it, and how often.
Essentially, the heavier the person and the faster they run the more impact they have on the treadmill. The more impact, the more stress on the components, the more stress the shorter the life of the treadmill. But, more on weight later. Read on to see examples of the best treadmills for home use, no matter your needs and goals.

Walking treadmills
Usually the most compact treadmill in belt size (110cm-120cm in length + 40 -42cm width) and lightest in frame, these tend to have smaller motors (1.5hp and above). Due to their compact design, if you're specifically looking for folding treadmills, walking treadmills will be your best bet to start.
Incline adjustment can be manual or power (we recommend power incline). Most will indicate faster than walking speeds but jogging will definitely stress them to a shorter life.
Check out some of our best treadmills for walking below. A great example is the Proform Sport 5.5 Treadmill pictured here: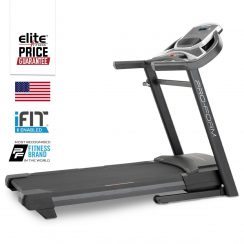 View our full range of walking treadmill models.
Jogging Treadmills
Jogging speed for most people is between 7km/h and 10km/h, so these treadmills need to be bigger in belt size than walking treadmills for leg spread and safety, and ideally 120-140cm long and 42-45cm wide.
Their frames will be heavier due to the extra impact and motor sizes should be 2.5hp and above.
There will usually be more workout programs specific for running and console features such as speakers and cooling fans, which are a 'nice-to-have'.
A good jogger's option is the ProForm Trainer 12.0 Treadmill pictured here: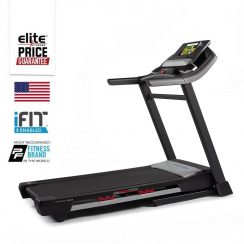 Jogging is actually classed as 'running' when it comes to treadmills : See our running treadmills here.
Running treadmills
Running speed is typically above 10km/h so stride length and user impact increase significantly, meaning that the treadmill frame needs to be heavier, and the belt size larger (140cm+ in length and 45cm+ in width). The motor also increases in size to 3.0hp and above.
A good standard option is our  Proform Pro 2000S pictured here: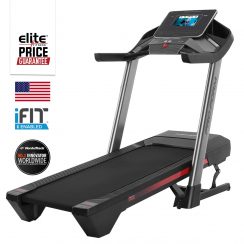 Not all running is the same of course, and there are different treadmills to cater to this, such as steady marathon training or speed interval training.
Some people are after more incline running training as well (see Incline Trainers below).
Browse all of our running treadmills
Incline Trainers
Walking or running up an incline offers huge benefits aerobically and can also reduce joint impact. The beauty of great incline trainers is that they can offer steep elevation for incline training whilst still providing regular running options like all other treadmills. 
A popular option is the NordicTrack X32i Incline Trainer pictured here: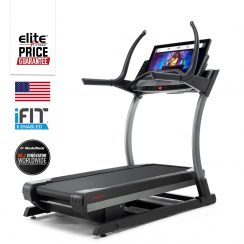 Browse our incline treadmills
Tread climbers
If fat burning is your main goal, then tread climbers could be a great option too.
These machines offer a low impact, very high-calorie workout, using a walking, step and elliptical action to really focus on your glutes and hamstrings. 
Our tread climber range is Bowflex.
A popular model is the Bowflex® Treadclimber TC20 pictured here: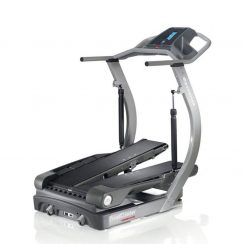 The best treadmill brands
At Elite, we only stock from recognised international brands that offer our customers the highest quality in terms of development, technology and testing, as well as long-term warranties and support.
The brands we choose to work with include NordicTrack, FreeMotion, ProForm, Bowflex, Impulse and Landice,
In recent years the treadmill market has been flooded with cheap and inferior Chinese imports that compromise on quality. They simply won't last, and may actually cause long-term harm on your joints.
Treadmill motors, horse power & weight limits
The motor is what drives the running mat around and can make the difference between a quiet, smooth treadmill and a really noisy machine that struggles to go well at higher speeds.
Horsepower (hp) is the measure of the power of the motor.
In our many years of experience in this industry, we've noticed that horsepower rating is probably the single most recognizable spec that consumers use as a guideline to purchase. Most people assume that a bigger horsepower rating is better. But, we're here to tell you this is not always true.
And to confuse consumers even more, there's no industry standard for treadmill motor hp ratings, so it varies between manufacturers on how they quote it.
Poor quality motors may have a higher hp rating on paper but are likely to overheat and require unnecessary repairs due to inferior components.
There are three classifications of motors to look out for:
Important: some marketers use these terms to confuse you into thinking the motor is larger than it really is:
Peak Duty: Generally the weakest. "Peak" stands for the peak horsepower that the treadmill will reach and no more.

Treadmill Duty: In-between peak and continuous.

Continuous Duty: The highest rank. The number associated will describe how much power is maintained throughout the workout.
 Continuous Duty is what we recommend that you focus on.
As you'd expect, certain levels of exercise require specific amounts of horsepower; will the machine be used for walking, jogging, running, or all three?
Here are our hp recommendations:
For walkers: a 1.75 horsepower continuous duty motor will suffice

For joggers: 2.5 horsepower continuous duty should be the minimum

For runners: 3.0 horsepower continuous duty or higher
Also note that if any of the users of the treadmill weigh over 90kg then hp should be increased by .5 for proper support, no matter what your fitness goals are.
Treadmill motor quality overall
While many motors will claim to be of identical horsepower, every motor is not built the same. You guessed it – cheaper motors usually consist of poorly made components. So don't be swayed solely by low prices. 
The best way to check if a motor is decent quality is by checking the manufacturer's warranty. A high-quality motor will typically have a longer warranty period and are therefore a safer long-term investment.  
Treadmill warranties
Warranties vary from one manufacturer to another.
Internationally recognised brands like those stocked with us support their products with excellent longer-term warranties. Typically, that's a 10-year frame warranty, 10-year motor warranty and 2-year parts warranty.
We believe this demonstrates that the manufacturer has confidence in their product to last, albeit with some basic maintenance by the consumer (see below).
Warranties from our trusted US brands reflect the highest grades of componentry as they are required to meet strict European standards such as CE, GS, TUV, ROHS, IS9001.But one thing's for sure, the warranty has to be able to be supported locally because when a problem arises, certified expertise needs to be close at hand. So check this before you buy, even if the brand and their warranty is good.
Basic treadmill maintenance
Maintenance carried out at home is a must to prolong the life of the treadmill. This includes regular lubrication, wiping down the treadmill surfaces to prevent sweat corrosion, tightening nuts and bolts periodically and cleaning out the motor cavity.  
Treadmill weight limits
Maximum user weight limits on treadmills are often used as an indicator of strength and durability. In reality though, there's a lot more to it.
Reputable manufacturers strength-test their products mechanically by rotating feet, electronic stress tests and with human runners of various weights. So a weight limit offered by these manufacturers can certainly be a good indicator – but you will also need to consider your running style as well.
For example, a 90kg heavy-footed runner, pacing 14km/h will seriously stress a treadmill with a 130kg weight limit. Likewise, a 120kg walker will be pushing a 130kg rated treadmill – in the same way a small car towing a heavy trailer will get the job done, but will be working the car to breaking point.
The rule of thumb here is don't use treadmill weight limits as the only indicator of durability and strength – come into a store and test out the treadmills in the way you intend on training, see how it responds, and get some expert advice on it all.
And as we touched on earlier, a treadmill with a motor made by a random Chinese factory will usually be much less efficient than a USA-designed motor. Even if the horsepower is large, and the weight limit specs are high. Due to a poor build quality it will probably be underpowered and ultimately the internal components will fail quicker than they should under stress.
Treadmill incline / elevation
Incline (elevation adjustment) on your treadmill is a great workout feature. This essentially simulates a hill climb, raising the deck at one end.
An incline will obviously raise your heart rate! Potentially you can burn up to five times more energy than walking or running on a flat surface. This can also add variation to your workout routine.
Most treadmills come with power incline, which allows the treadmill deck surface to be raised from 0% – 10%, with some treadmills having a maximum incline going as high as 40%. This can be activated at the push of a button, or automatically as part of a workout programme, like iFit.
Treadmill deck
Deck size
Don't let people tell you deck size doesn't matter. Depending on your fitness goals, the running deck surface needs to provide enough area to accommodate your height, stride length and running speed, allowing for a fluid, safe and comfortable workout.
Because of all these factors, it's always best to test out a treadmill in person, if possible at the speed that you intend on exercising on it.
The following is a guide to suitable treadmill deck sizes: 
| | | |
| --- | --- | --- |
| Type | Length | Width |
| Walking   | 110 -120cm | 40-42cm |
| Jogging | 120 -140cm | 42-45 cm |
| Running | 140cm + | 45cm + |
Note – this info is a guideline only. The taller a person is and the faster they walk, jog or run and their stride, will all determine the safest belt size to use.
Deck Maintenance
The treadmill has a laminated surface to reduce friction from the running belt when in use.  
Just like tires on your car, the running belt and deck surface will wear out and over time will require regular servicing and replacement.  
They should also be regularly lubricated to ensure the longest possible life. We recommend Elite Fitness premium treadmill lubricant specially formulated for all treadmills.
Treadmill belt
There are a few factors that contribute to tread-belt durability.
USA-designed treadmills have very accurately positioned deck, rollers, drive belt and frame to ensure that components like the belt, last a really long time.
Treadmill belt thickness is important too. Remember that many budget treadmills will only have one-ply tracks to save money. A well-designed treadmill will have a flexible 2- ply belt to reduce stress on the other treadmill components. This will prolong the life of the belt.
Most treadmill users will need to lubricate the treadmill on a regular basis, however, some brands are maintenance-free. These branded treadmill belts are pre-lubricated out of the box and don't need lubrication for a given period.
A good service provider (you guessed it – like us!) might even go the extra mile and email customers to remind you about regular lubrication.
Heart rate monitors
Most treadmills come with some form of sensor to monitoring your heart rate. The basic models have sensors to grip on the side, so you reach across while you're exercising. Other models will use a wireless chest strap, which is generally more accurate and a tad less awkward to use.  
Then the heart rate information allows the machine to change the speed, incline as well as the workout instructions to meet your pre-set goals.
Built-in workout programs
Most treadmills today are sold with pre-set workout programs that can provide you with tones of exercise options such as weight loss or endurance training. Some are really nifty so it's worth shopping around.
The basic ones measure heart rate, gather your basic stats, consider your goals, then automatically control the speed and incline / decline too. It's arguably way more effective than training outside as everything is so measurable and sensitive to your personal requirements.
There are some really innovative developments in treadmill programming, which most users tell us are extremely motivating, especially if you need that extra push when it comes to the crunch.
Obviously it's awesome to provide some variation in your workouts too, or just to measure your physical progress with some insightful features.   
One of our favourites at the moment is called iFit®, with unlimited interactive Google Maps workouts, so you get a virtual walk or run with 'StreetView' and can experience the rise and fall of terrain as the incline/decline responds to the programming.
The technology connects you and your treadmill to online tools that measure your fitness, track each sessions, plan your workouts and adapt to your progress. And you can track everything from external devices.  
Check out this video that highlights their awesome technology and what an iFit workout looks like:
With an iFit® membership, you're also part of an enthusiastic online fitness community, and you get to partner with top US trainers and some of the biggest events in the world like Le Tour de France. Very cool!
Cushioning (suspension)
Joint injury, back pain or shin splints? Ouch. If this is you, then cushioning is key.
Whilst running on the road, your joints are exposed to loads of impact. Treadmills have a distinct advantage over road running and walking thanks to their softer cushioning. 
Treadmills have flexible suspension inserts to compress and flex during foot-strike to absorb and take away joint impact  – some have up to 40% impact reduction. 
Well-designed systems from popular manufacturers like you'll find in a Pro-Form, NordicTrack and Bowflex treadmill have what's called 'differential cushioning', which means firm support when you push off then great cushioning when a foot lands.
All treadmills will have their own unique cushioning design and therefore 'feel', but it really comes down to personal preference. It's a bit like a new bed! So testing the treadmill first is hugely important.

Treadmills have flexible suspension inserts to compress and flex during foot strike to absorb and take away joint impact  – some have up to 40% impact reduction.
Well-designed systems you'll find in a Pro-Form, NordicTrack and Bowflex treadmill have what's called 'differential cushioning', which means firm support when you push off then great cushioning when a foot lands.
Folding treadmills
Space in the home is usually at a premium these days, so folding a treadmill and tucking it out of sight can be a big plus.
When considering a purchase, think about how easily and safely it folds away, and wheels around the floor. And for that matter, look for a modern machine that can open up with a simple click or light push – it's so much easier. A more compact treadmill will make more sense for a smaller space.
Erecting, folding away and transporting your treadmill shouldn't be awkward with the technology available on high-quality machines.
Other bells & whistles
You might like to consider other enhancements and techy features, such as:
iPod/MP3 Compatible interface with inbuilt acoustic speakers

Cool-Air fan system

Android console interface with Hi-Res Graphics and detailed workout information

iFit® Live / SD Card workout technology.
Service & maintenance of your treadmill
Always make sure your supplier can answer these questions:
If there's a problem with the treadmill, how will it be resolved?

Does the retailer/supplier have a qualified and experienced service technician?

How long will parts be available for the treadmill?
If the retailer can't answer these questions – stay away!
Don't rely on the warranty information alone as a safeguard; the company selling the product still needs to able to support the purchaser for the duration of the warranty.
You wouldn't buy a car knowing there was no on-going support, why do the same with a treadmill?
Try before you buy
This is our golden rule. At the end of the day you can find a treadmill that ticks lots of boxes, but the 'feel' of a machine will be the icing on the cake. It's a very personal decision in the end.
That said, we invite you to pop into your nearest Elite Fitness Store to experience some treadmills yourself and enjoy a no-strings-attached chat about your fitness goals.
Written by Elite Fitness Team,
Updated May 2022