Elite Fitness has been educating and providing advice to customers on purchasing treadmills for home use for over 25 years. We have a huge range and selection of treadmills in-store and online to meet your budget requirements.
Whether you are a first-time fitness equipment purchaser or serious treadmill user, this treadmill buyers-guide will help you decide which features to consider when buying a treadmill from Elite Fitness.
When it comes to investing in a treadmill for your health and fitness needs, there are many factors to take into consideration in selecting the right treadmill for you and your family.  Treadmills are one of the most versatile pieces of fitness equipment that will cater for all fitness levels, whether you choose to walk, jog or run.
We cannot emphasise the importance of trying or testing the treadmill enough as the feel of the machine can be crucial in your buying decision initially and also understanding the after-sales maintenance and service is paramount to ensuring the treadmill performs to its full potential for many years. The internet can sometimes be misleading and can only show a limited amount of information especially from inexperienced sources so there is no substitute to testing a treadmill out and speaking to an expert at an Elite fitness store near you where possible.
Support
An often overlooked aspect of buying a treadmill is also after sales service.
Can your retailer or treadmill supplier answer these questions fully;
If there is a problem with the treadmill how will it be resolved?
Does the retailer/supplier have a qualified and experienced service technician?
How long will parts be available for the treadmill?
If the retailer /supplier can't answer these questions fully – Stay Away!
Don't rely on the warranty information alone as a safeguard, the company selling the product still needs to able to support the purchaser for the duration of the warranty.
You wouldn't buy a car knowing there was no support, why do the same with a treadmill?
Which type of treadmill is best for you?
Just like human beings, treadmills come in many shapes and sizes, so defining the treadmill and matching it to an individual's physical characteristics/fitness goals are important.
Treadmills are complicated machines, constructed with both mechanical and electrical components on a steel frame that needs to work well together to provide a realistic outdoor experience indoors.
Most people will be surprised to find out at that there quite a few different types of treadmill not only just for walking and running. So we have put together a handy treadmill summary guide below;
Usually the most compact in belt size (110cm-120cm in length + 40 -42cm width) and lightest in frame these tend to have smaller motors, 1.5hp and above, the incline adjustment can be manual or power (we recommend power incline). Most will indicate faster than walking speeds but jogging will definitely stress them to a shorter life.
Best option: Elite Fitline 400 Treadmill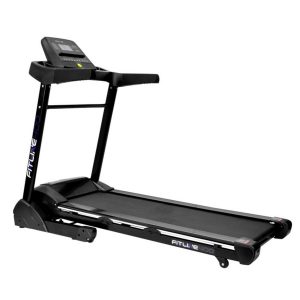 Jogging Treadmills
Jogging speed for most people is between 7km/h and 10km/h so these treadmills need to be bigger in belt size than walking treadmills for safety, and be ideally at least 120-140cm long and 42-45cm wide. Their frames will be heavier due to the extra impact and motor sizes will be 2.5hp and above. There will usually be more training programmes and console features such as speakers and cooling fans etc.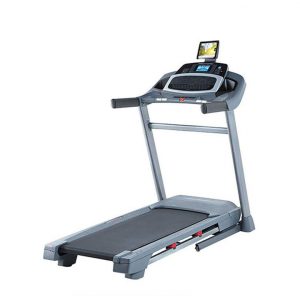 Best option: ProForm 595i Treadmill
Running speed is typically above 10km/h so stride length and user impact increase significantly, meaning that the treadmill frame needs to be heavier, the belt size larger 140cm+ in length and 45cm+ in width and the motor increases in size to 3.0hp and above. There are many different types of running training such as marathon training, speed interval training, incline training, etc so buying the right level of the running treadmill is paramount to ensure it has a  long life and a satisfying experience for the runner.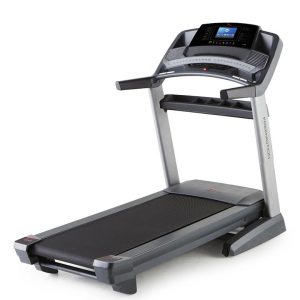 Best option: FreeMotion 860 Treadmill
Walking or running up an incline offers the exerciser a hugely beneficial aerobically and is scientifically proven to burn x5 more calories per workout while providing a reduction in joint impact. Most treadmills incline to a maximum of 12% whilst the Incline Trainers can go up to a massive 40% incline! Why run when you can get the same aerobic benefit walking up a 30% incline? The beauty of great incline trainers is that they offer the huge incline elevation whilst still providing regular running options like all other treadmills. It's the best of both worlds!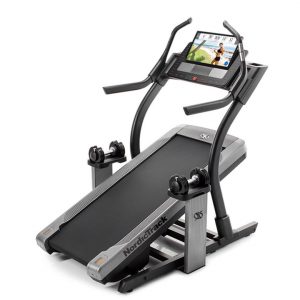 Best option: NordicTrack X22i Incline Trainer
If fat burning is your main goal and you enjoy walking then Treadclimbers are for you! A very low impact very high-calorie burn workout machine, the Treadclimbers unique movement utilises a walking, step and elliptical action to engage the glutes and hamstrings in increasing the user's heart rate to maximize calorie burning level with minimum perceived exertion.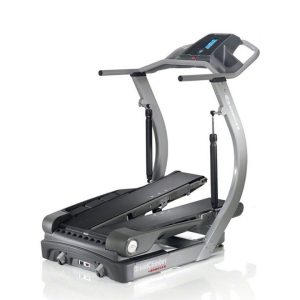 Best option: Bowflex® Treadclimber TC20
When choosing one of the above categories of treadmill there are some major considerations to take into account that will help guide you to the right level
Multiple household users. Collectively how many people will use the treadmill in the home? How long will their workouts be? How many workouts per week? What kind of training will they do ie walking, running, interval training? Treadmills have to adjust to the impact of each individual running style so the more users and the more collective time on the treadmill the better the treadmill needs to be.
Heaviest and tallest users. The heavier the person and the faster they run the more impact they have on the treadmill. The more impact, the more stress on the components, the more stress the shorter the life of the treadmill. The maximum weight limit of a treadmill is not a very good guide. (more on this later). The taller the user the longer the stride, the faster they run the longer the stride again.
Pre-existing injuries. Some treadmills have better cushioning than others. The USA designed Pro-Form, NordicTrack and FreeMotion have industry-leading cushioning to protect joints.
Long-term Fitness goals. If you get bored easily or are very motivated the treadmill or plan to progress into jogging and running from walking then the treadmill has to keep your motivation on track and evolve with the user to make sure the treadmill is "Future proofed" with features such as IFIT live or is the right level for you to "grow' into.
It is important to answer these questions as they influence the suitability of the type of treadmill you should consider.  All too often we find people purchasing treadmills that are not designed to meet the demand or expectation of the individual or household use.
A cheap generic Asian produced walking treadmill will be working hard from the outset with no capacity to handle an occasional jog without causing stress on the internal components leading to a shorter lifespan. Whereas a better designed USA engineered product may cost a little more but can handle the extra rigours of walking and jogging increasing the treadmills versatility.
If your long-term fitness goals involve progressing to jogging or running in the future, then look to purchase a running machine from the outset.
Once you have decided on the type of treadmill you need, here are some other features, advantages and benefits that may influence your buying decision.
Brands
In recent years the treadmill market in New Zealand has been flooded with cheap and inferior Chinese imports.
The main priority of these imports is to match a cheap price point. To match the price point the manufacturer will always compromise on quality by sourcing components from a variety of different factories to match these price points. These treadmill factories do not design, develop or test new innovation or efficiencies they are only interested in 'churning out" inferior product with substandard warranties and no ongoing parts or after sales support. Typically these factories are short lived.
Purchasing a treadmill from a recognised international brand, such as NordicTrack, FreeMotion, Pro-Form, Bowflex, Impulse and Landice, will give you an assurance that the development, innovation and testing of these treadmills are of the highest possible international standards. Some of these brands have been developing treadmills for over 40 years and are responsible for 100's of patents, continually striving to design and engineer products that are at the cutting edge of treadmill production. This desire to bring the international consumer, quality treadmills for the last few decades is reflected in their outstanding warranties usually consisting of a 10-year frame, 10-year motor and 2-year parts.
Often manufacturing warranties from leading brands such as these are superior and reflect the highest grade and standard of componentry incorporated with their products as they are required to meet strict European Standards such as  CE, GS, TUV, ROHS, IS9001.
Mechanical Components
Motors and Maximum weight limits
The treadmill motor horsepower rating is probably the single most recognizable specification that most consumers use as a guideline when he or she begins to do their buying research. Most people assume that a bigger horsepower is better. This is not always true!
HP ratings and numbers can be very confusing and ultimately incredibly misleading. Here are some tips to help you sort through some of the terms and numbers you may have read about to find out what is really important when trying to understand this integral part of the treadmill.
The treadmill motor is the powerhouse of the treadmill and does the most work. The best way to check if a motor is a good quality motor is by checking the manufacturer warranty. A high-quality motor will typically have a longer warranty period and are therefore a safer long-term investment.
Poor quality motors may have a higher rating on paper but are likely to overheat and require unnecessary repairs due to inferior components. We recommend internationally recognised treadmill brands because they offer 10-year motor warranties.
There are 3 classifications of motors and some treadmill marketing companies use these to confuse the consumer into thinking the motor is larger than it really is;
Peak Duty: Generally the weakest. "Peak" stands for the peak horsepower that the treadmill will reach and no more.
Treadmill Duty: In-between peak and continuous
Elite Fitness recommends the 3rd option 
Continuous Duty

: The highest rank. The number associated will describe how much power is maintained throughout the workout.
While many motors will claim to be of identical horsepower, it is pertinent to note that every motor is not built the same. Cheaper prices mean that the product consists of poorly made components. Do not be swayed solely by low prices.
Assess what kind of use the treadmill will predominantly be used for. The degree of exercise must be taken into account to make sure your motor reflects your lifestyle. Certain levels of exercise require specific amounts of horsepower; will it be for walking, jogging, running, or all three? Consider the following:
For walkers: a 1.75 horsepower continuous duty motor will suffice
For joggers: 2.5 horsepower continuous duty should be the minimum
For runners: 3.0 horsepower continuous duty or higher
Also note that if any of the users of the treadmill weigh over 90kg then HP should be increased by .5 for proper support, no matter the fitness goals. This means the HP should be at least 2.5 HP for walkers, 3.0 for joggers, and 3.5 for runners. Such precaution will extend the life of your motor and therefore add to a more enjoyable and beneficial workout on your treadmill.
Warranties
Treadmill warranties vary from one manufacturer to another.
Internationally recognised brands support their products with excellent warranties and an example of this is
10-year frame warranty
10-year motor warranty
2-year parts warranty
These are substantial warranties which demonstrate that the manufacturer has confidence in their product to last and has been tested vigorously to provide years of trouble-free training (with basic maintenance by the consumer) but one thing is for sure the warranty has to be able to be supported locally because when a problem arises, expertise needs to be close at hand to offer advice.
An example of a poor warranty is a 5-year frame, 3-year motor, 1-year parts. This warranty suggests that the treadmill will be working hard from 'day one' and would have a short life expectancy.
Basic maintenance is a must to prolong the life of the treadmill which includes, regular lubrication, wiping down the treadmill surfaces to prevent sweat corrosion, tightening nuts and bolts periodically and cleaning out the motor cavity.
LINK TO SERVICE VIDEO
Weight Limits
Maximum weight limits on treadmills are often used as an indicator of the strength and durability of a treadmill. In reality, it is not a very good indicator.
As discussed previously a treadmill with a 2hp motor made by a random Chinese factory with a 110kg weight limit will usually be significantly less efficient than a USA designed motor. The motor will have to work very hard all the time, due to its poor build quality, typically will be underpowered and ultimately the internal components will fail quicker than they should under the stress. Therefore the maximum weight limit associated with these treadmills will not be accurate and is usually inflated to help sell more treadmills in varying markets.
Most reputable treadmill manufacturers strength test their products mechanically by rotating feet, electronic stress tests and even human testing as is in the case of ProForm and NordicTrack to accurately weight rate their treadmills. However, a lot of factories don't test for long enough or at all so the tolerance of their treadmills is not truly known.
Another factor contributing to maximum weight limits being indicators of strength are various running style. For example, a 90 kg heavy footed runner, running at 14km/h will seriously stress a treadmill with a 130kg weight limit. Therefore, could potentially shorten the life of the treadmill. Likewise, a 120kg walker will be pushing a 130kg rated treadmill constantly in the same way a small car towing a heavy trailer will get the job done but will be working the car very hard to potentially breaking point.
The rule of thumb here is don't use treadmill weight limits as indicators of durability and strength come into a store and test out the treadmills in the way you intend on training to see how it responds and talk to an expert at Elite Fitness to guide you.
MOTOR VIDEO
Incline – Elevation Motor
Incline or elevation adjustment on your treadmill is a great workout feature, whether it is manual or a powered system.
Most treadmills come with Power incline, which allows the treadmill deck surface to be raised from 0% – 10%, with some treadmills going as high as 40% which is the case with Incline trainers. This simulates the addition of a hill climb during the workout, raising your working heart rate and potentially burning up to 5x more energy than walking/running on a normal flat surface.  This also allows variation in your treadmill workout and can be controlled through inbuilt workout programmes on the console, to give important motivation to your training routine.
Workout Apps such as IFIT utilise the incline feature, on Pro-Form, NordicTrack and FreeMotion treadmills to maximum benefit by automatically adjusting the incline on the treadmill to match the terrain designed by the user. On google maps and downloaded to the treadmill to really simulate walking or running anywhere in the world from the comfort your own living room.
IFIT IN ACTION – ELEVATION INCLINER TRAINER VID
Deck Size and Treadmill Belt
The treadmill running deck can vary in size and has a laminated surface to reduce friction from the running belt when in use.  Just like tyres on your car, the running belt and deck surface will wear out and over time will require regular servicing and replacement.  They should also be regularly lubricated to ensure the longest possible life. We recommend Elite Fitness premium treadmill lubricant specially formulated for all treadmills.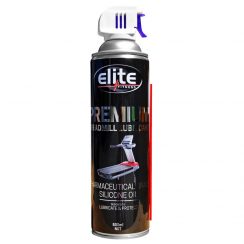 Elite Premium Treadmill Lubricant 500ml
Depending on your fitness goals, the running deck surface needs to provide enough area to accommodate your height, stride length and running speed, allowing for a fluid, safe and comfortable workout on your treadmill.
It is always best to test out a treadmill in person, if possible at the speed that you intend on exercising on it. This will ensure you purchase the treadmill with the right width and length.
The following is a guide to suitable treadmill deck sizes:
Walking  – 110 -120cm length            40-42cm width
Jogging   – 120 -140cm length          42-45 cm width
Running  – 140cm +                                45cm +
The above information is a guideline only and the taller a person is and faster they walk, jog or run will determine the safe belt size to use.
There are a few factors that contribute to Tread-belt durability.
Overall, the treadmill design. The USA designed treadmills have very accurately positioned deck, rollers, drive belt and frame to ensure that components like the belt last a very long time. Generic Asian treadmills are not designed as accurately and can stress out components like the belt quicker than it should.
Treadmill belt thickness. Most budget prices pointed treadmills have one-ply tracks to save money. A well-designed treadmill will have a flexible 2- ply belt to reduce stress on the other treadmill components and will also prolong the life of the belt.
Lubrication is a very important factor for not only treadmill belt life and smooth performance, but the overall treadmill life especially the electronics. Lubrication is paramount to reduce heat build which can seriously damage all parts of the treadmill in the same way a car needs oil, a treadmill needs Lubrication.
Most treadmill users will need to lubricate the treadmill on a regular basis, however, some brands especially NordicTrack and Pro-Form are maintenance-free. These branded treadmill belts are pre-lubricated out of the box and don't need lubrication for either 156 hours or 2 years of usage (conditions apply). Also as an extra back up at Elite Fitness, we email our customers regularly to ensure regular lubrication is applied as it is the single most important part of the maintenance program of the treadmill.
We have also formulated our own Elite Fitness premium treadmill lubricant specially designed for all treadmills.
Workout Programmes
Most treadmills today are sold with preset workout programs. These help support different exercise goals such as weight loss training and endurance training. Programs automatically control the speed of the treadmill, and they will adjust its incline/decline too if applicable.
There are some new and exciting developments in Treadmill programming features and one of the best is called iFit®.
IFit® offers many benefits but is especially enticing for its unlimited interactive Google Maps workouts.
iFit® technology connects you and your treadmill to online interactive training tools that track your fitness, plan your workouts, and adapt to your progress. With iFit®, you're also part of an enthusiastic fitness community that supports you through all your fitness goals.
Partnered with top trainers like Jillian Michaels and some of the biggest events in the world like Le Tour de France, iFit® provides the most comprehensive library of training programs.
Access your iFit® account from your exercise equipment, computer, tablet, or smartphone to review your stats, schedule workouts, and share your success. Your profile information is stored securely in the iFit® cloud and is available anytime, anywhere.
Motivating treadmill programs are being pioneered by US brands who invest in University tested programmes and align themselves with some of the best international personal trainers to bring the consumer the most effective, motivating workouts ever devised.
Cushioning (Suspension)
Treadmill track cushioning is one of the most important features when considering buying a treadmill.
If you suffer from joint injury, back pain or shin splints then this feature will interest you.  Whilst running on the road, your joints are exposed to large amounts of impact, upwards of 5 times your bodyweight.  This impact must be absorbed by the body, through joints and muscles with some relief coming from your footwear and running technique. As we get older and our body's natural ability to replenish and restore cartilage and joint function becomes more demanding therefore it is important to look after our joints to continue exercising.
This is where the treadmill can have a distinct advantage over road running and walking.  Treadmills have flexible suspension inserts, positioned between the treadmill's deck and framework.  These are designed to compress and flex during foot-strike to absorb and take away a large percentage of joint impact (up to 40% impact reduction).  All treadmills will have their own unique design or setup that will offer the user a choice in individual preference, so testing and trying the treadmill is hugely important in getting the right feel for you and your family. If the deck and belt don't respond well due to impact when running or walking it can be a very awkward experience underfoot not to mention when the cushioning is done very well it reduces the impact on the walker and runners joints.
Well-designed cushioning systems for manufacturers such as Pro-Form, NordicTrack, Bowflex and Landice have differential cushioning, which have firm support when the user pushes off and more cushioning when the foot lands. This means they are very responsive to the impact while offering the maximum cushioning.
If the cushioning is not designed well, then the energy from the impact can be transmitted up the leg causing fatigue and stress. This will be the case for most generic designed kitset treadmills found on the internet.
USA brands tend to invest heavily in research and development for their cushioning systems specifically designing them to suit the exact requirements of the treadmill. These cushioning systems have been engineered to maximise the running experience while reducing the impact on the body.
When buying your next treadmill make sure that you put cushioning as a top priority and look out for Pro-Form and NordicTrack treadmills with ProShox Dual flex and for adjustable cushioning levels Flex select cushioning systems.
Space Saver
Space in the home is at a premium, so folding the treadmill is a major advantage.
Folding the treadmill safely and easily is very important which is why International Brands invest in patents, such Space saver design which allows for the deck to be folded up and out of the way to maximize your training space. Also, look for our additional EasyLift™ Assist, which assists to lift the deck with an easy push.
After you have the treadmill folded up, use our built-in transport wheels to move it easily from room to room.
Other features that you may consider on your treadmill may include:
 iPod/MP3 Compatible interface with inbuilt acoustic speakers
 Cool-Air fan system
Heart Rate Sensors  or Wireless Heart Rate Compatibility (Polar)
 Android console interface with Hi-Res Graphics and detailed workout information
 University tested workout programmes
 iFit® Live /SD Card workout technology
Just like test driving a new car, it is important to come and try the range of treadmills available.  We invite you to pop into your nearest Elite Fitness Store to experience them for yourself and have any questions answered by our knowledgeable and friendly staff.