Elliptical Crosstrainers were originally designed to offer a low impact alternative compared to running on a treadmill. Offering excellent aerobic benefit through a natural feeling, low impact movement, Crosstrainers have become one of the most popular pieces of fitness equipment on the market today.
A great Crosstrainer will engage most of the body's muscles whilst elevating the users' heart rate in a biomechanically sound movement, burning calories through resistance adjustments and adding variety to the action via ramp adjustments.
The right Crosstrainer will feel great in its movement, will activate the body as a whole whilst reducing the impact on the joints.
The wrong Crosstrainer will feel cumbersome and the user won't want to spend time on it so this Buyer's Guide will help you through the process of purchasing the right Crosstrainer for you.
At Elite Fitness we pride ourselves on presenting all variations of Crosstrainers, from large front drive movements to test the fittest home user to small rear-drive USA branded Crosstrainers to suit budget and space restrictions.
An often overlooked aspect of buying an Elliptical/Crosstrainer is also after sales service.
Can your retailer or Crosstrainer supplier answer these questions fully;
If there is a problem with the Crosstrainer how will it be resolved?
Does the retailer/supplier have a qualified and experienced service technician?
How long will parts be available for the Crosstrainer?
If the retailer /supplier can't answer these questions fully – Stay Away!
Don't rely on the warranty information alone as a safeguard, the company selling the product still needs to able to support the purchaser for the duration of the warranty.
You wouldn't buy a car knowing there was no support, why do the same with a Crosstrainer!
These are the points to look for when purchasing a Crosstrainer:
Biomechanical feel
Every Crosstrainers feel different. Even Crosstrainers that look the same will feel different, as they are made by different manufacturers, so the best starting to point to picking a Crosstrainer is to try them all. If you like the feel of it you will enjoy using it when it is in your own home.
There are many different types of movement options when considering a Crosstrainer, below are a few variances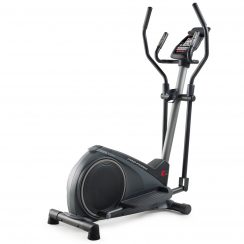 Rear Drive Compact Models
These will have a wide feet spacing, a more vertical stepper action with a short horizontal movement (14 – 16 inches). These models will suit small spaces and users between the heights of 5ft 4 and 5ft.
Best option: ProForm 225 CSE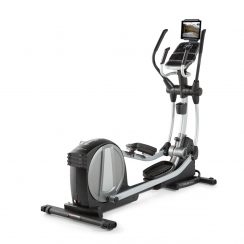 Rear Drive Large Models
Great natural feet spacing, up to 20 inches horizontal movement, smoother vertical action. Ramp adjustment offers vertical movement options. Suits all heights.
Best option: NordicTrack Space Saver SE7i Elliptical Crosstrainer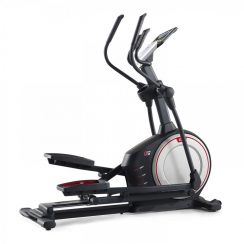 Front Drive basic model
Front drive is a flatter action (up to 20 inches long), with a close feet spacing and a more natural feel.
Best option: Proform 420 E Elliptical Crosstrainer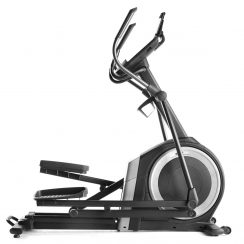 Front Drive Premium Model
Very robust framework and smooth biomechanically sound movement (up to 20 inches long) with automatic ramp adjustment for multiple variations on the motion.
Best option: NordicTrack C12.9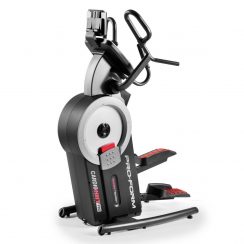 Elevated Elliptical movement
A hybrid step and elliptical movement engage the Glutes and rear leg muscles more than standard elliptical. Excellent Calorie burner.
Best Option: Cardio HIIT Trainer
Adjustable stride movement (centre drive).
Adjustable stride length (18 – 22 inches) to suit all heights of users, personalised heel to toe adjustment, space efficient for a long stride.
Best option: NordicTrack ACT Touch
Seated Elliptical Crosstrainers. If standing isn't your thing then a seated elliptical will utilise all the same body areas as a standing elliptical whilst you are seated. Perfect for lower back issues, lower leg conditions or just for comfort.
Best option: Inspire CS2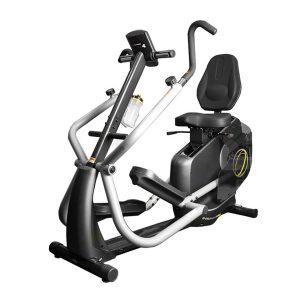 Hybrid Elliptical. Variety is the spice of life. Choose from a seated recumbent cycle or an Elliptical on the same machine. Ideal for home users wanting more variation in their workout.
Best option: Pro-Form Hybrid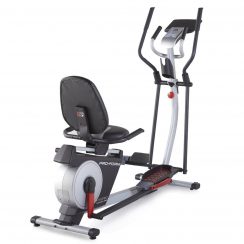 Arm Action.
The arm movement on a Crosstrainer can be hugely beneficial to the overall feel of the workout if it is done well. Its major benefit is increasing overall body involvement, therefore, stressing out the user's aerobic system more than using legs alone. A well-designed Crosstrainer will keep the exerciser's hands above their heart, therefore, increasing aerobic benefit further. It must be noted that the upper body conditioning attained on a Crosstrainer is minimal.
However, on most cross-trainers, the arm movement is just a "token add-on" to the main lower body action. Arm movements on poorly designed cross-trainers tend to be short and very stunted in range.
USA designed Crosstrainers such as Proform/Nordic track and Octane all incorporate good arm motion integrated into the lower body movement to enhance the user's workout not hinder it.
Octane Fitness is a market leader at naturally integrating the arm into the overall movement, with an even arm action design to converge across the body stimulates the body's natural biomechanical walking/running motion as accurately as possible.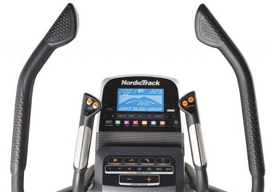 Key pointers to look out for when choosing a Crosstrainer.
The right feet spacing is key to finding the perfect Crosstrainer. If your feet are too wide then this can cause hip displacement and general lower body malalignment. It can be uncomfortable and if the user has lower body weaknesses already then this can cause more issues. Wide feet spacing is mainly found on smaller Crosstrainers of generic Asian design.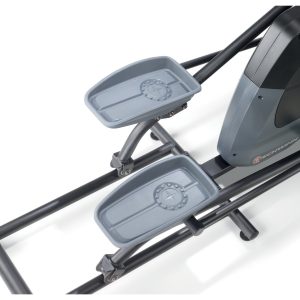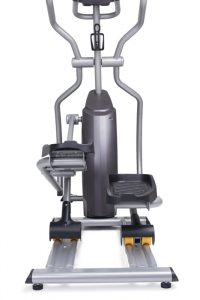 Deep movement. If the user is shorter and the Crosstrainer is small then this type of Crosstrainer will have a deeper step type rotation. This leads to an unstable feeling action.
Conversely, if the user is too tall for the Crosstrainer then the stunted short-range action can stress the knees at the forward rotational point, potentially causing weakness in the knees at a later time.
Large weight limits don't always indicate a well-made product. The strength of the steel may be solid but it's the connection points that take the strain. The body will put a lot of lateral and horizontal stress on a Crosstrainer under usage, so test out the product at your intensity level to make sure it is robust enough.
Flywheel size is often overused as a sales tool with respect to smoothness and feel. A heavy flywheel and an inadequate magnetic system are worse than a small flywheel and a good magnetic system.
When you consider the huge amount of variation in movement available in the market, feeling the movement for yourself is the most important aspect to choosing a Crosstrainer for home use, especially if there are multiple users as they all may prefer a slightly different feel.
Brand
When looking for any serious piece of fitness equipment, look for Reputable Brands and Manufacturers that have an international presence in the market. You can do this by doing a google search for US companies like Pro-Form, NordicTrack, Schwinn and Octane Fitness who invest a lot of time and money into getting the crucial combinations of engineering, biomechanics, and training programs right for the domestic user. You can count on experience and expertise to deliver the latest designs and innovations whilst giving you the right tools to get the job done. These companies are so confident in their final product that they attach world leading warranties for peace of mind buying.
These USA brands, design products that have the strongest framework coupled with cutting-edge biomechanical design ensuring a solid smooth movement that creates a synergy with the users muscular and aerobic system to ensure maximum benefit from each workout.
Our own Elite fitness branded Crosstrainers are manufactured and designed in "A" Grade Asian factories with their own in-house design process that we 'tailor make' for our own New Zealand market. We design our Crosstrainers with a strong framework and robust connection points to maintain a smooth long action that will stand the test of time.
Workout Programs
For those of us that require motivation or a more strategic approach to training, creating workout training programs are a must and play an important part in staying motivated during workouts. Many of today's Crosstrainers have a large range of program modes or options to cater for your fitness and training goals. These include Heart Rate control programs with the use of wireless telemetry straps, Watts control – Resistance & RPM and University tested programs designed by Personal Trainers, specifically tailored to individual training goals. Other innovations like iFIT Live have also become popular with the introduction of modern technology. These allow customized workouts with Google Maps or progressive training programs that are specific to your needs. These empower the user to take control of their workout goals and maintain their workout motivation.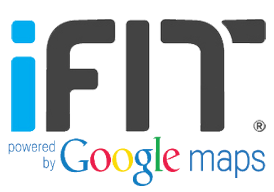 Just like test driving a new car, it is important to come and try the range of Elliptical Crosstrainers available.  We invite you to pop into your nearest Elite Fitness Store to experience them for yourself and have any questions answered by our knowledgeable and friendly staff.
Written by Elite Fitness Team,
November 5, 2018