Strength training is a huge growth category for the fitness industry. More and more customers are asking how to get fitter stronger and healthier by incorporating products such as flat benches, FID benches and bench systems into their workouts.
These versatile products are very popular due to the vast array of exercises that can be performed on them by consumers wanting to improve their strength, shape and functional ability.
There are many variations of the products on the market today and we have put this buyer's guide together to help navigate you through the confusion and highlight the features, advantages and benefits of them.
At Elite Fitness we have been educating and providing advice to customers on purchasing fitness equipment for nearly 30 years. We have a large selection of benches both online and in-store to meet your budget, health and fitness requirements. No matter if you are a first-time purchaser or if you have experience similar products in the past we have the range to satisfy your requirements. Our range includes some of the best in the world with international brands such as Marcy, Torque, Inspire, Body Solid and Nautilus. We have also invested heavily in our Silverback range of benches, utilising our 25+ years of experience in bringing quality and value for money to the New Zealand exerciser.
When it comes to investing in this type of strength equipment for your health and fitness needs, there are many factors to take into consideration when selecting the right machine for you and your family.
We cannot emphasise the importance of trying or testing out strength equipment enough as the feel of the machine can be crucial in your buying decision, especially with a lot of options available.
When purchasing strength equipment make sure the retailer or supplier can service and support your product for years to come. At any given time on the market, there are many suppliers selling "too good to be true" products on Online auction websites for crazy prices. These machines are often over marketed and ongoing after sales support is usually non-existent. The companies advertise a product for a short time then disappear. Always buy from a reputable source that can offer parts and service for years to come from experienced and qualified technicians such as Elite Fitness.
Don't rely on the warranty information alone as a safeguard, the company selling the product still needs to able to support the purchaser for the duration of the warranty.
Bench/squat system, FID bench or Flat Bench which is right for you?
There are a lot of different types and quality levels of benches on the market. This buyer's guide will help you navigate these benches to help determine the right type of bench for you and also what to look out for with respect to quality.
Build Quality.
The most important aspect of any bench is build quality. Benches need to be robust with thick and heavy tubing to support the exerciser + the weight being lifted. A 100kg trainer lifting 80kg needs a very well built bench with at least a 250kg weight limit not only for progression in the future but stability during the movement. There is nothing more disconcerting than lifting the weight on a bench that is flexing and moving during the workout.  11 gauge steel construction is a great indicator of a quality bench.
Upholstery and padding need to be of a high quality. It needs to be supportive, be comfortable and be sweat resistant. Be wary of internet only purchasing from non-reputable sources because the padding can be thin enough to feel the backboard and even screws when laying down.
Brands
In recent years the strength fitness market in New Zealand has been flooded with cheap and inferior Chinese imports.
The main priority of these imports is to match a cheap price point. To match the price point the manufacturer will always compromise on quality by sourcing components from a variety of different factories to match these price points. These strength factories do not design, develop or test new innovation or efficiencies they are only interested in 'churning out" inferior product with substandard warranties and no ongoing parts or after sales support. Typically these factories are short lived.
When purchasing a Bench or Bench/stand system from  USA brands such as Marcy, Inspire, Torque Fitness, Body Solid, or our own range of Silverback you are receiving assurances that the development, innovation and testing of these multi-gyms are of the highest possible international standards. These brands are responsible for 100's patents, continually striving to design and engineer products that are at the cutting edge of home production. This desire to bring the international consumer, quality home gyms for the last few decades is reflected in their outstanding warranties.
Often manufacturing warranties from leading brands such as these are superior and reflect the highest grade and standard of componentry incorporated with their products as they are required to meet strict European Standards such as CE, GS, TUV, ROHS, IS9001.
When investigating strength equipment, always check that the manufacturer can supply detailed information on the construction quality of their products.
If the only information is a weight limit and a good image on the internet then be very wary.


Adjustments
Many benches incline and decline. A great bench will adjust to a perfect biomechanical position for the exercise to be conducted for maximum efficiency. Unfortunately, a lot of adjustable benches can have very random positions which are not only inefficient from a training perspective but can also be dangerous when needing to protect the spine in particular.
Types of benches
FID bench or Flat/ Incline/Decline bench
FID benches are capable of adjusting through multiple positions as the name suggests from a flat position, to incline and decline positions.
These are the most versatile type of bench, enabling the trainer to execute a vast amount of dumbbell or barbell exercises covering all muscle areas. They can also be integrated into Power racks or Smith machines increasing exercise variation for these training tools also.
The degrees of adjustment is very important for manufacturers to get accurate because too much of a decline or too much of an inclined position can be dangerous. Look for a bench with at least 5 adjustment positions as this will help with exercise variation in the future.
A well-built FID bench will have very little lateral movement from the joints and connection points when the user is laid down and a high weight limit indicating a strong framework.
Transport wheels are an advantage.
Best option: https://www.elitefitness.co.nz/strength/fid-benches/ft1-bench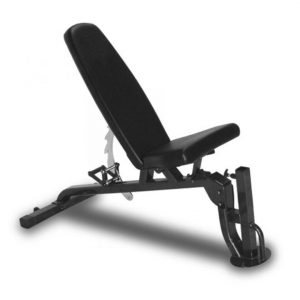 Flat Bench
As the name suggests these benches have no adjustments other than a flat position. Due to the simpler framework design, they tend to have higher weight limits than other benches and also have less flexing or lateral movement when being used.
Great for dumbbell exercises, abdominal exercises and can be used in racks and smith machines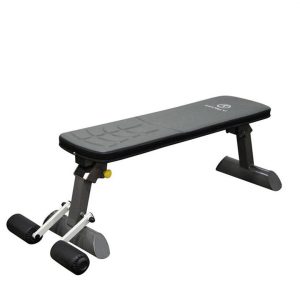 Bench/squat system
These benches usually incorporate a bench and stand for bench pressing or squatting. The benches are FID benches and are sometimes attached to the stands or can be separate for increased versatility. These systems are very cost effective and offer a lot of long-term training option for the trainer.
These types of benches are excellent for bench pressing, general dumbbell exercises and leg training. They tend to have leg extension/ leg curl attachments for extra variety and are a very good all-round multi-purpose bench.
There are different widths of bench press stand from the narrow width (suitable for a 5 ft bar), mid-width (suitable for 6ft bar) or the widest Olympic position (suitable for 7ft bar). Be wary of narrow stands as they are more restrictive for training purposes due to the narrow position. Mid and Olympic widths are better. The height and weight of the user and the overall weight lifted will have a huge bearing on which bench to choose.
A bench/stand system with separate bench tends to be more versatile as the bench is removable and the squat stands will usually accommodate the ability to do squats.
When looking for a bench/squat system pay particular attention to quality and robustness of the structure and the incline/decline adjustability because a lower priced multi-purpose product may well use inferior components to keep cost down.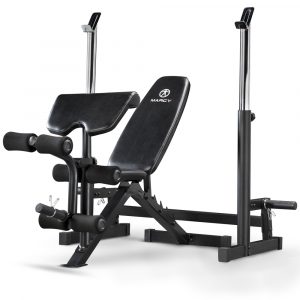 Attachments
Some manufacturers include extra attachments to their benches or offer them as optional extras.
Attachments such as leg ext/leg curl, feet anchors for abdominal crunches, pulldown and bicep preacher curl options are available. These attachments are usually removable and have a limited functionality in comparison to specially designed single function versions found in commercial gyms but will nevertheless add variety to overall workout programs.
When investigating strength equipment always check that the manufacturer can supply detailed information on the construction quality of their products.
If the only information is a weight limit and a good image on the internet then be very wary.
Just like test driving a new car, it is important to come and try our range of Benches in store.  We invite you to drop into your nearest Elite Fitness Store to experience them for yourself and have any questions answered by our knowledgeable and friendly staff.
Written by Elite Fitness Team,
November 15, 2018