The rowing machine is one of the most effective means of exercise for fitness; providing a low impact, non-weight bearing activity engaging over 80% of your body's muscle mass in one full body movement. Exercising on a rowing machine is self-paced, simple and easy to use regardless of your fitness level or age. Just like other forms of fitness equipment, the rowing machine has evolved to offer users a choice in style and design that suits them and the environment it is being used in.
At Elite Fitness for over 25 years, we have been educating and providing advice to customers on purchasing rowers for home use. We have a huge range and selection of rowers in-store and online to meet your budget requirements.
Whether you are a first-time fitness equipment purchaser or serious rower, this rowing machine specific buyers-guide will help you decide which features to consider when buying a rower from Elite Fitness.
Firstly, we cannot emphasise the importance of trying or testing rowers enough as the feel of the machine can be crucial in your buying decision initially and also understanding the after-sales maintenance and service is paramount to ensuring the rower performs to its full potential for many years. The internet can only offer a limited amount of useful buying information and can sometimes be misleading, especially from inexperienced sources, so there is no substitute to testing the rowers out and speaking to an expert at an Elite fitness store near you.
An often overlooked aspect of buying a rower is after sales service.
Can your retailer or rower supplier support the product you purchased from them for years to come? Will they be able to supply parts years into the future when you wear them out, so you can keep rowing? Does their after sales support include in-house experienced and qualified service technicians?
At Elite Fitness we can support you and your product for years to come!
The product warranty alone is a safeguard but the company selling the product still needs to able to support the purchaser for the duration of the warranty.
You wouldn't buy a car knowing there was no support, why do the same with a rower?
Rowing machines use different forms of resistance systems to create a smooth and realistic rowing experience.
There are quite a few different types of rowing resistance mechanisms and which rower you choose will definitely be influenced by the resistance feel.
Hydraulic (Piston Resistance) Rowers
Usually installed on lower-priced rowers, the resistance is based around an oil-filled cylinder that can be fixed or have an adjustable valve that increases or decreases the hydraulic resistance, enabling the user to select the workout intensity they require. These rowers are compact in design and are great for a very entry level workout but lack the momentum feel of a realistic rowing experience.
Best option: Oxford Rower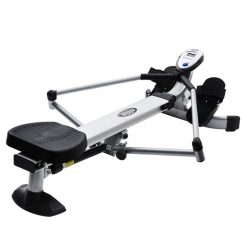 The Air Rower is probably the most popular and well-recognised rowing machine in the fitness market today. The large fan blades attached to a rotational flywheel generate air resistance based on the speed at which the user pulls the handle. The more effort put into the stroke, the greater the workout intensity. Traditionally these types of rowers were driven by a chain drive system, although flexible alternatives like Rope and Straps are now becoming popular due to the reduction in noise, cost and maintenance.
Best option: Nordictrack RX800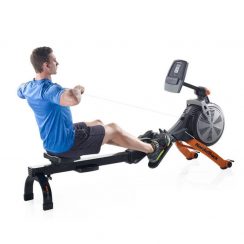 Magnetic Rowing machines offer the benefit of reduced noise by using a magnetic mechanical brake and flywheel to control the level of resistance.  Just like an exercycle they can be manually adjusted via a manual index dial control or with the use of a computer operated console.  The braking resistance is adjustable and energy can be accurately measured by this type of rower (watts). The drawback of this type of resistance mechanism is that the resistance is constant and requires an adequately weighted and balanced flywheel to maintain a smooth, realistic motion, unlike Air Resistance Rowers that provide more resistance as the flywheel is spun faster. These types of rowing machines generally have bigger and heavier frameworks to cater for the larger flywheel mechanisms.
Best option: Elite 5000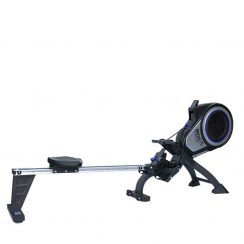 Dual Mode Rower (Air-Magnetic)
The Dual Mode rower has become more popular over the last few years as manufacturers have concentrated on developing the design to enable the benefits of both air and magnetic systems in one.  The Dual mode rower will have the traditional fan blade flywheel system that operates normally to increase resistance as it is spun faster as well as an additional magnetic brake that can be adjusted manually via an index dial or in the powered programmable versions can offer a huge variety of program profiles and additional features to motivate the user to another level.
Best option: R9ir Rower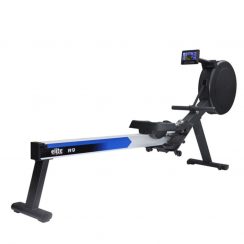 Water resistance rowers consist of a paddle or Water-Flywheel revolving in an enclosed tank of water. The mass and drag of the moving water create the resistance which many purists believe is the closest simulation to rowing on the water as you can get.  The density of water is 800 times greater than air, so there is no need for additional mechanical braking as there is with air resistance models. With less mechanical involvement in the movement water rowing is simple – The harder you pull, the harder the workout.
Best option: S4 WaterRower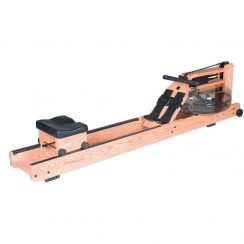 Other considerations when buying a rower are:
Workout intensity.
Each type of rower has different intensity limitations.
For example, the WaterRower S4 model can tolerate entry level beginner workouts right up to professional rower intensity workouts comfortably. Compared to a $500 rower will be robust enough to tolerate a beginner workout with a bit of room for improvement. These tolerances will be based on stroke intensity. A 6ft 3inch 120kg man will exert a lot of intensity during each stroke so the framework of the rower has to handle the intensity, the resistance mechanism to the seat rollers, and not all rowers are created equally. So test the rowers out at the maximum intensity you may want to train at to get an indication of robustness.
Brands
Rowing brands are less prevalent than other fitness equipment brands. Nevertheless, generic Asian rowers tend to be cheap but can be very poorly built with a hugely dissatisfying experience for the user. Therefore we recommend the international brands of MotionCraft, WaterRower, Pro-Form, NordicTrack. We have even collaborated with other brands to design our own Elite Fitness brand of rowing machines, which we are immensely proud of, offering years of rowing fitness to the home user.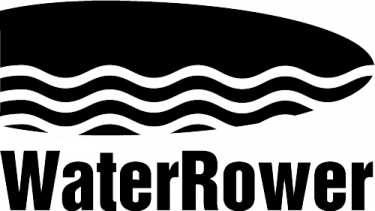 Frame Construction
The rowing machine frame can be made up of a variety of materials with a steel based frame being the most commonly used. The quality and gauge (thickness) of steel may vary from in-home domestic machines to commercial industry specification. The maximum user weights of these products and the suitability will largely be dependent on the frame size and construction materials.  These frames may fold, split or be stood on their ends to maximise space for home-use.
Range of Movement
As human beings we come in all shapes and sizes, so a one-size of frame rower will not fit all.  For in home-use we are primarily concerned with space or area the machine takes up, however sometimes this can affect the design and set up of the rower.  The key factors are to ensure you have sufficient length in the rail to fully extend your legs and pull the handlebar to your lower abdomen without restriction.  Depending on the type of rowing machine, the position of the workout console and/or fan-handlebar assembly can determine how much range of motion you have at the start of the movement.  Taller users will find the MotionCraft R9ir, R101 or the WaterRower range are the better options for a range of motion.
Seats, Rail length & Angle
The rail and seat assembly of the rowing machine play an important part in the feel and position of the user.  Ensuring that you have sufficient rail length for the tallest user will allow you to extend yourself fully in the stroke, getting maximum range and benefit.  The angle in which the rail sits also ensures the seat to footplate position is biomechanically correct and comfortable. The size and contour of the seat pad should provide a comfortable feel and give cushioned support.
The construction and type of seat wheel material are important for smooth running and durability of the rail system as they are a wear and tear component. Poly-Urethane covered wheels are commonly found on home-use rowing machines that cater for maximum user weights of up to 120kg. Light commercial or full commercial machines will often have a heavy-duty nylon moulded wheel which will handle heavier loads and greater usage rates.  The seat rail system and wheels require periodic maintenance and cleaning to ensure the best possible life.
The range of motion or movement can vary amongst rowing machines so trying the product before purchase is important.
Fan Blade / Flywheels
The size (diameter), shape and area of the fan blades will determine the amount of air resistance generated from an air rower. It can also attribute to the amount of noise, so choose carefully here.  A magnetic rower flywheel needs to be heavy enough to provide a smooth constant resistance throughout the workout.  Low-cost Magnetic rowers may feel jerky and provide inadequate levels of resistance if the magnetic brake mechanism and flywheel are too light.
Warranty
Warranties will vary from manufacturer to manufacturer, however; Rowing machine frameworks are expected to last the working lifetime of the machine under normal environmental conditions. A 5 or 10-year frame warranty is commonplace.  Parts warranties can range from 90 days to 3 years, expect these to be appropriate to the quality of manufacturing design and componentry used by the manufacturer. Reputable international manufacturers, brands and suppliers back their products with the largest warranties.
Foot Plate Position
The footplate position and spacing is different on most machines.  Some machines have a pivoting or rotating foot plate which moves with the user or a fixed mounting plate that can be adjustable with a heel clip.  Both types work well and are a case of personal preference as to which one feels best.
The pedal spacing is the same as a Q-Factor on an exercycle.  The best biomechanical position is attained when the hip, knee and ankle joints are kept in alignment (a great example: the S4 Club WaterRower).  This spacing can vary on the design of the rower and where the seat rail fixes to the main body.  If you have any joint injuries look for the narrowest footplate position available.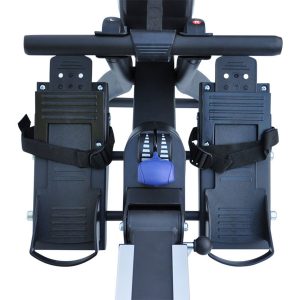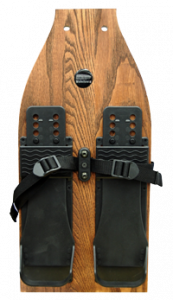 Internet Programmes & Software
Many of the large commercial suppliers of rowing machines have now developed their own rowing programmes and computer software to cater for the individual who seeks to improve and advance their rowing technique, fitness goal or exercise as part of a fitness community.  Programmes like We Row and Water Coach (WaterRower Education Programme – www.howtorow.com )  by WaterRower enable the user to either plug in and monitor their workout feedback through a computer software system or compete against other rowers online through the world wide web.  Such programmes are designed to increase rower participation, improve rowing technique and motivation at home.
Handle type / Chain / Belt / Strap Assembly
Most handles found on rowing machines are traditionally round, however, the new Tear-drop style of the handlebar that has been introduced by WaterRower has become popular amongst older users & joint sufferers, due to the discomfort caused by clasping the handlebar for long periods of time. This type of handle can be held loosely and at your fingertips to reduce and alleviate aggravation and pain associated with arthritis and other joint ailments.
The handlebar system can be driven by either a chain, rope (cable) or strap.  The chain system is a hard wearing and durable feature; however, it does require lubrication and is generally noisier than the more favoured strap or belt systems found on many modern rowing machines.
Console Features / Programmes
The computer consoles are there to provide important workout feedback for added motivation and progression towards your training goals.  Entry level rowing machines will have basic consoles that provide feedback on: Time, Distance, Speed, Total Strokes & Calories. Rowing machines with monitors calculate performance using an algorithm unique to the individual manufacturer; it will be affected by the type of resistance used and other factors.  Dual mode rowers include a large range of pre-programmed profiles that will increase the constant resistance level throughout the workout utilising the adjustable magnetic brake mechanism.  Programme options are varied and include, Heart rate control, Watts control, User defined (Customised), Distance & Race profiles.
Rowing machines are commonly referred to as "Ergs" or "Ergometers".  This relates to the console feedback that monitors and measures workout performance. This includes "Watts" (RPM-Resistance), "Distance/Time" & "Split Time/Distance". Coaches and Sports people use this type of information to evaluate their training.
Just like test driving a new car, it is important to come and try our range of rowers available.  We invite you to pop into your nearest Elite Fitness Store to experience them for yourself and have any questions answered by our knowledgeable and friendly staff.
Written by Elite Fitness Team,
November 10, 2018