IFIT ACTIVE
LED Screen
Water Resistant
Displays Time
Wireless Sync with BLE Technology
Accessory Clip Included
Rechargable Battery via USB Cable
Andriod and iOS Mobile Apps Available
Your Fitness Lifestyle–United
Forget training solo. iFit Active is your new workout partner - making your lifestyle a little healthier every day. Sport the smart tracker day and night on your wrist, on a clip, or in-pocket, to automatically track your steps, distance, calorie output, and sleep patterns. Log in from your computer or mobile device to view data in real time on our app's easy-to-read dashboard.
Here and Now
Quick Calorie Logging
No phone service? No problem. No matter where you are or how full your schedule, nutrition tracking with iFit Active is instant and simple. The first smart tracker with a quick calorie log, iFit Active allows you to log calories right on the device. The tracker device syncs wirelessly with the mobile app using BLE technology, so your on-device entries automatically update to your iFit profile. Bonus: any workouts completed on your ProForm Bluetooth compatible equipment automatically sync with your Active band.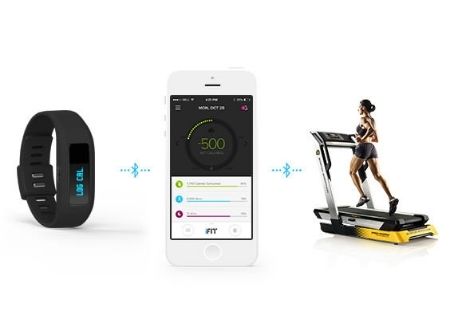 Your Fitness Fuel Gauge
Real-Time Net Calories
Instantly see your Net Calories™ (total calories consumed minus total calories burned through activity) in real time. Jog one more mile? Say no to the cheesecake? Now you can make informed, in-the-moment decisions that help you reach your daily goals. Plus, the app will notify you if you fall within the healthy, harmful, or weight loss range.
iFit Technology Never Sleeps
Sleep Analysis
Get a complete sleep pattern analysis with the iFit Active. Track light sleep, deep sleep, and waking to better understand how to improve your pillow time. And don't forget the silent alarm that wakes you at the ideal time in your sleep cycle without disturbing your partner. Customize preferences so your smart tracker switches from "active" to "sleep" mode without touching the device.
User Info

| | |
| --- | --- |
| Warranty | ALL WARRANTIES BACK-TO-BASE* |
The shipping details to show on the product detail page will go here
LED Screen: Clearly see messages, tips and current stats right on the device.
Adjustable Wrist Band: Find the right fit with watch-style band adjustment.
Water Resistant Design: Wear it while you workout - band is sweat resistant.
Wireless Sync: Smart tracker syncs wirelessly with mobile apps and iFit profile using BLE.
Accessory Clip Included: Personalize your experience by wearing the smart tracker device in the included accessory clip.
Automatic Mode Change: Customize preferences so your smart tracker switches from 'active' to 'sleep' mode without touching the device.
Sync with iFit: All your activity and stats wirelessly upload to the app and your profile on iFit.com.
Rechargable Battery: Smart tracker battery has a five-day life between charges and recharges using a USB cable.
Compatibility
Make sure you have the right gear. iFit Active is only compatible with the iPhone 4S and above, iPod touch 5th Gen and above, and Android 4.3 and above.