Rower Maintenance Guide
We're proud that our equipment is built to last. But as you will have been advised when you purchased your rower, there's a little elbow grease required to maintain things in order to extend the life the rowing machine, and importantly, to make sure it's safe for you and your family to use.
As you're going through this checklist you should always look out for suspected faults, and wear and tear. In which instance, do not try to repair or adjust anything other than the maintenance that is outlined here.
This is important for your safety and to maintain your warranty (please see the section about your warranty and servicing, at the bottom of this guide).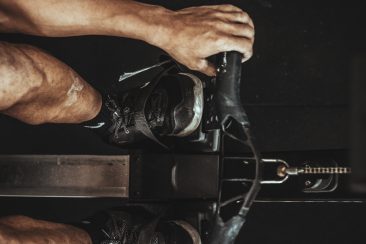 Home maintenance: How to clean your rowing machine
Rowing machines are built to last, with a limited number of moving parts. That said, a regular maintenance and cleaning routine will extend the life of your rowing machine and see you get the maximum use out of your investment.
Rowing machine maintenance checklist:
Daily care: after each session it's best to wipe down your machine to remove any perspiration – otherwise the salt can corrode your machine's surfaces. Simply wipe the seat and handles with a soft cloth, then if your rower features a monorail (the track on which a seat slides back and forwards) do the same here, being sure to remove any dust and grit that could generate friction and wear. If multiple people are using your rower you may also want to use an antibacterial wipe on the seat, handles and even footstraps.
Once a week: for fly-wheel models wipe down the cage that surrounds the fly-wheel mechanism. These tend to attract dust and grit, so removing this regularly will prevent wear in the long-term and ensure airflow into the flywheel isn't restricted.
Once a month, depending on use: clean the cable on your rowing machine by pulling it all the way out and wiping it with a lightly oiled rail. This removes grit that can build up through use, and also spreads lubricant through the inner workings of the rowing machine.
Every 2-3 months, depending on use, check the tightness of all fixing screws and tighten where they're loose. Do not overtighten them though (it's a fine balance).
Once or twice a year: vacuum inside the flywheel housing and remove any built-up dust.
How to clean inside the flywheel housing on a rowing machine
Many rowers use air to provide resistance and these machines tends to accumulate dust inside as they draw air and any suspended particles inside the housing.
Each model will have specific instructions on how to access the flywheel interior, but in general this is done by carefully removing the screws that hold the flywheel housing in place, then vacuuming and wiping with a soft cloth and air filters and dirty areas. 
Please consult your specific machine's manual to avoid voiding your warranty.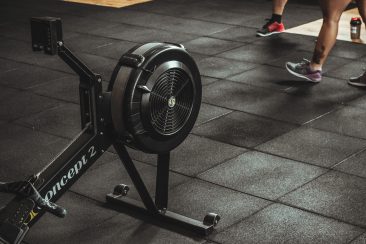 Resetting your rowing machine
If the electronic components of your rowing machine are not working (or perhaps you've recently performed maintenance), you might need to just reset it.
Most rowing machines have a reset button and or a few buttons on the console that need to be pushed – check your manual for instructions (most are online).
If it is still not working, contact us.
If you smell or see smoke
Immediately discontinue any use and unplug the rowing machine. Contact us for service recommendations and next steps.
Storing a rowing machine
Your rowing machine should be kept somewhere dry – never in a damp spot to collect mould. Be careful it's not too hot either, to look after the machinery inside. Store it away from any dust, lint and hair, and when it's up, vacuum around it. Some of our customers cover their machines with plastic or a cloth cover, which is a great idea.
Your Elite Fitness rowing machine warranty and servicing
Please remember that any damage caused to the equipment due to the disregard of this maintenance guide will not be covered by warranty. If you have spotted or suspect defective components, they must be replaced immediately – the equipment must not be operated. This is for your own safety.
Any servicing must be performed by an authorised service representative at Elite Fitness Equipment. The golden rule is that if you're unsure, give us a call and we'll be happy to advise you on next steps.
How much will a rowing machine service cost?
We can provide comprehensive service options to both retail and commercial customers, including service agreements tailored to you and your rowing machine use.
If you're after a one-off service just drop us a line for a quote. The price will range based on the model, existing or suspected issues and where in New Zealand you are based.
We do operate a free call centre to help you resolve issues if you wish to carry out some user maintenance yourself and need a helping hand.
Elite User Manuals
Please download the manual for your rowing machine model below.
Written by the Elite Fitness Team.