Working out at home sure sounds like an awesome idea. with many advantages of having workout equipment at home; no more driving to the gym, or paying for a gym membership.
But where on earth do you start? And the golden question – how much do you spend? Hopefully we can give you a hand with some different home gym ideas. It may surprise you that you can afford great gear to do effective workouts whatever your budget, and you don't always need a tonne of space.
If you're looking to set up your own home gym, there are a few things you'll need to take into account before making your purchase. First, consider what your goals are for working out at home. Are you trying to lose weight? Build muscle? Get toned? Once you know your fitness goals, you find the best home gym equipment to help achieve them.
If you're on a budget, there are a few key pieces of home fitness equipment that you'll need to get started. Basic home gyms can be set up with just a few items, including dumbbells, a weight bench, and an exercise mat. If you have more money to spend, you can add in additional equipment like a treadmill, elliptical machine, or home gym system.
Once you have your equipment, it's time to set up your home gym. You'll need to find a space that is large enough to accommodate all of your equipment with enough light and ventilation to stay comfortable. If you follow the tips in this guide, you'll be on your way to setting up the perfect home gym for you!
In this Home Gym Set Up Guide:
What is a home gym?

How much does a home gym cost?

Home gym equipment: what do you need?

All-in-one home gyms – The best home gym equipment for starters

The best home gym equipment for strength training

The best home gym set up for serious training

The best home gym accessories

8 tips for your home gym area
What is a home gym?
If you were game and highly creative, you could invent your own weights out of random household goods and term it a home gym! It's been done before and we wouldn't argue with your terminology.
To us, home gyms are a safe, comfortable, motivating space or room where you can improve your well being and meet your fitness goals with ease and enjoyment – all from the comfort of home, using some state of art equipment that suits your needs. 
Perhaps you're dreaming of the freedom of popping into your spare room or garage gym that you've set up, whenever the mood strikes you.
How much does a home gym cost?
This one is hard to tackle as it depends on what you're aiming to do. We've managed high end fit-outs for people with budgets in the hundreds of thousands, down to mum and dads after a small multi gym or treadmill to sit in the corner of the lounge. 
Read on to think about equipment that could work for you. Then search our website for costs.
We are completely transparent with our pricing. If something is not listed, like additional costs for installation or the price of additional fittings or weights for a machine, we will endeavour to quote over the phone or email as soon as possible, so nothing is a surprise.
Your gym at home: The home gym equipment you'll need
In store, on any given day we'll have a mix of customers, from people wanting to bulk up, those wanting assistance with rehab equipment, someone looking to train for a half marathon from home, and someone after a few free weights. Everyone is different, and so is the equipment they'll require.
So what you will need to define before you search our website (or this post) for equipment, is your goals. 
Essentially this article starts with the basic gym equipment we believe you should consider when setting up a standard strength training area – ideal for setting up a home gym on a budget. You can pick and choose between the equipment options depending on your exercise goals to help you find the best home gym equipment for the space and budget available to you.
There are of course more serious home gym machines which we will touch on too. And the helpful, nifty accessories you might like to consider. 
Any questions give us a shout by emailing us, calling us, or best, popping in for a chat and to actually trial some machines.
The best home gym set-up for starters
Multi gyms – the all-in-one home gym
Multi gyms are sometimes referred to as 'home gyms' or 'all-in-one home gyms' as they offer a bunch of exercises that an actual home gym would offer – all from one piece of equipment. If you're looking to ditch the gym membership, this is a great way to get full body workouts from a home gym machine.
To get an idea of look and features, here is an example of one of our high-end multi gyms, the Inspire M3
Good quality multi gyms will let you perform thirty or more different strength exercises. So although they may seem expensive at the outset (quality brands will set you back anything from $1500 – $8000), you're getting huge value in the exercises available. It's also an excellent option for small spaces 
Check out our Multi Gym buyers guide if this seems like a better option than purchasing separate equipment.
The best home gym equipment for strength training
Dumbbells
Dumbbells are 'free weights', and are particularly good for people beginning their strength training journey. They add versatility – you can do so many different exercises and even take them out walking.
There are two main types of dumbbells: fixed and adjustable. Fixed dumbbells are weights that cannot be adjusted, while adjustable dumbbells can be altered to different weights.
Each type of dumbbell has its own advantages and disadvantages. Fixed dumbbells tend to be more affordable than adjustable ones, but they also take up more space since each weight is a separate dumbbell. Adjustable dumbbells, on the other hand, take up less space since the weights can be adjusted to your desired amount.
When choosing which type of dumbbell to buy, consider your budget and how much space you have for storage. If you're tight on budget or space
Once you have the hang of technique and are getting stronger, you can start to include barbell exercises as well. It's good to have a mix of free weights and non-free weights, to add variety.
You can buy single pieces of steel or rubber dumbbells, or you can buy a complete set with a rack to sit them on. If you're worried about blowing your budget then just get a pair that suits your needs (say, for bicep curls), and you can add more later.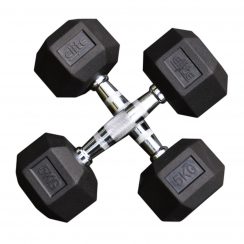 Adjustable dumbbells are really popular as space savers, where you attach/detach the weights at each end of a small hand bar.
Check out our dumbbell range to get a visual idea of what we're describing.
Barbell/weight training bar
Bench press, deadlift, squat, and shoulder press are part of a standard strength training routine. So you'll need a barbell to fit your (hopefully increasing) range of weight plates on.
We sell Olympic bars which are extremely popular with experienced gym-goers and weight trainers. But it's key to know that there are Olympic bars for weightlifting which are stiff in construction, and then there are Olympic bars for powerlifting and Crossfit exercises which are being dropped on the floor regularly. These ones are more flexible so they absorb the impact when dropped.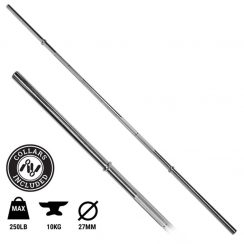 It's also not hard to find a more standard barbell for basic training at a cheaper price.
Check out our range of barbells for an insight into the best quality bars on the market.
Weight plates
Your barbell won't be very functional without some weights attached. You can choose from plastic or vinyl styles which are markedly cheaper and particularly good for beginners, or high-end cast iron plates.
The cast iron plates also have some offerings covered in rubber (better for the floor and handling), and 'Bumper' plates which are made from solid rubber. Bumper plates are made for deadlifting or powerlifters or a variety of Cross Training movements where plates may be dropped a lot.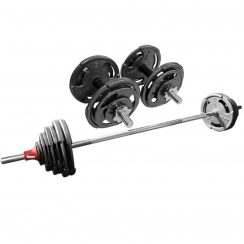 We stock a bunch of nice colours too so you can have a bit of fun with your home gym aesthetics and match your new feature-wall in the garage, if you're going that far!
You can buy home or garage gym bumper plates and weights as single weight plates but we would recommend a weights set which costs less overall.
Weight bench
A weight bench is not just a cushioned bench. It's ergonomically designed, flexible, and necessary for most strength training, in particular bench presses. Most top of the line benches come with leg press bars too, or there are options for some that double as ab machines. Some will also come with a rack (where you can hang your bar while bench pressing).
Most of our benches are adjustable. An adjustable bench can allow both incline and decline so you can do heaps of other exercises with free weights too.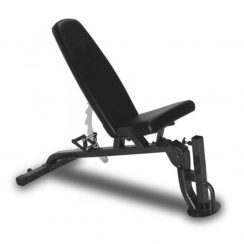 That said, we've had customers who have managed to build a makeshift bench at home for their bench presses, from beer crates and old cushions. We wouldn't recommend this from a safety perspective, or for comfort or workout flexibility, but we also understand that it comes down to budget a the end of the day.
When purchasing a bench double check the maximum weight capacity. The last thing you want is to collapse under a heavy barbell.
The best home gym set-up for serious training
Power racks & cages, Smith machines, functional training machines
These structures are for the more serious strength training enthusiasts out there who have a decent amount of space available.
Power racks and cages
Power racks and cages are large steel structures you will have likely seen at the gym, (also known as a 'power cage', 'squat racks' or 'squat cage'), that act as a spotter for free weight barbell exercises.
Its generic design is four, tall upright posts with two adjustable horizontal bar catches (also called 'supports', 'rails' or 'pins') on each side to rest barbells on between reps.
Many of our power rack machines have other attachments, such as a chin-up bar, pulldown cable attachment, or pegs for storing your weight plates.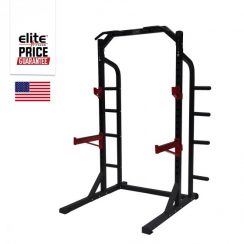 Smith Machines
These machines are mainly used for squats and consist of a fixed barbell that sits on parallel rails allowing only vertical movements. They're handy if you don't have a spotter.
For extra cost you can get Smith machines that are multi-functional – with cables or lat pull down as add ons.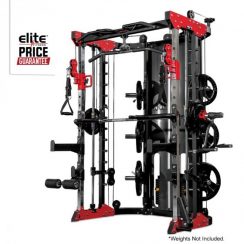 We sell a bunch of top quality options – and this can be a great way to consolidate your machinery.
Functional trainers
These popular gym machines use cams and pulleys to target muscle groups (especially your core stability), and can be used on their own as strength trainers or along with traditional weights, to mix things up.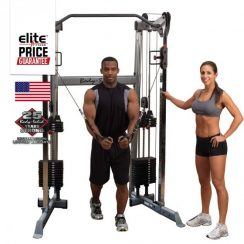 Our options include handy machines that combine the above, such as a functional trainer and a Smith machine in one.

Home gym cardio machines
Perhaps cardio is the primary focus of your home gym, over and above strength training? In which case you may want to invest in a decent rowing machine, treadmill or exercycle for, and just have a few dumbbells for your strength exercises.
Or, perhaps you want to have both a cardio machine and then a multi gym for strength and to maintain space? The choice is yours (you guessed it – we have the options!).
Cheaper cardio alternatives
If the investment in a cardio machine is going to blow the home gym budget (or perhaps you don't have the space in your new home gym area), a walk or run outside does the trick when it comes to warm ups or cardio training.
Or, of course, just invest in a good old fashioned skipping rope.
Another cheaper home gym cardio option that looks cool is a boxing bag. You can choose from traditional hanging bags or free-standing bags that require no installation.  
The best home gym accessories
Medicine Balls

and

Swiss Balls

are useful for functional exercises. 

Plyometric Boxes

can boost your cardio endurance and power (if you're handy you can make these at home but as always, please be safety conscious and make sure they can hold your weight when jumped on and are stable). 

Resistance bands

can be used for pre-workout stretching and flexibility, incorporating into existing exercises for added resistance, or for replacing some equipment entirely.

You could also consider extras like weight belts too.
Checkout all of our exercise accessories – all there to enhance your workouts.
Tips for your home gym area
We've helped people set up their home gyms for 30 years, and have collected a few tips on the way:  
Consider decent air flow/ventilation for all seasons. Fans and an open window often do the trick.

Protect your floor. You can of course invest in cheap rubber mats for your weight areas, but serious lifters should consider some

decent floor protection

made especially for this purpose. If you've got a concrete floor (like many garages) a rubber mat is key to protect your weights when dropped as well as for your own safety and comfort.

If hanging anything from the ceiling, be mindful of weight. It's surprising how many people damage ceiling rails and things because they don't check this.

Get a radio, TV or music player hooked up. It will help create an atmosphere.

A large mirror can help you to self correct your exercises. It can also make a smaller space feel bigger.

Paint the room white. It makes the space feel clean and fresh – and white is mean to be energetic.

Check out our

workout guides

for help and inspiration.

Workout with mates if your setup allows. This can really help your motivation.
Last but not least – enjoy it. Not many people have the luxury of home gym equipment, so make the most of your investment and go crazy getting fitter and stronger!

Written by the Elite Fitness Team,
Updated July 2022